*This post may have affiliate links, which means I may receive commissions if you choose to purchase through links I provide (at no extra cost to you). As an Amazon Associate I earn from qualifying purchases. Please read my disclaimer for additional details.
As a chicken owner, you may mistakenly believe that chickens can eat just about anything, including acorns. Unfortunately, sometimes acorns can be toxic for chickens to eat.
Chickens can eat acorns if the acorns have been properly leached beforehand. This means that the dangerous toxin in the acorns has been removed. Leached acorns are the only acorns that are considered safe for chickens to eat.
Acorns may appear to be a safe food for almost any animal, especially since squirrels seem to hoard and eat them like candy, but that is not the case. If you have oak trees anywhere on your property, it is vital to know why they are not safe for chickens and how to prepare them.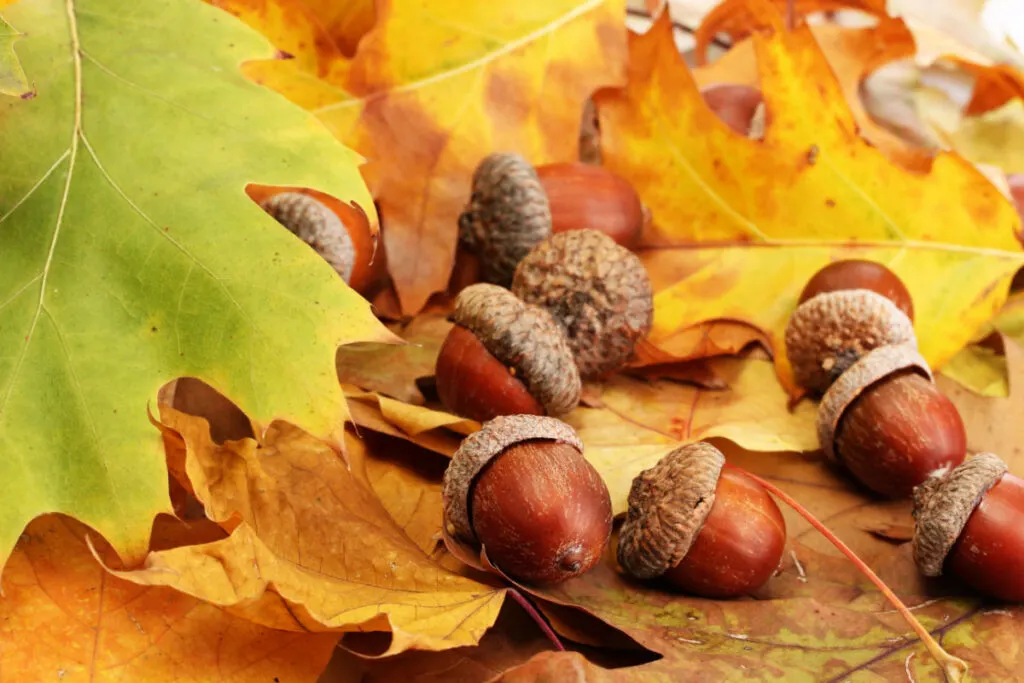 Why Are Acorns Unsafe For Chickens To Eat?
Acorns are not safe for chickens to eat if the acorn has not been leached. This means that fresh acorns that have fallen from trees should not be eaten by chickens.
Raw, uncleaned acorns are unsafe for chickens to consume because they contain a toxin that is dangerous for chickens. Tannic acid is toxic to chickens because it leads to kidney dysfunction and digestive issues that can be fatal.
The good thing is that many chickens do not even bother with acorns because they are difficult to eat when they fall off a tree. The bad thing is some chickens do like to eat acorns and oak leaves, so it is best to understand the potential problem and prepare for the worst-case scenario.
How Can Acorns Be Made Safe For Chickens to Eat?
The poultry-toxic tannic acid can be leached, or removed, from the acorns by boiling them or washing them extensively. Boiling the acorns speeds up the process tremendously.
If you want to wash them with cold water, it will take a while, but your chickens will appreciate your effort. The acorns will need to be crushed or ground, then placed in water for a few hours at a time.
Strain the soaking acorns regularly until the water that runs off the acorns is clear. The clear water will signal that the tannic acid has been removed.
Are Poultry Feeds Containing Acorns Safe For Chickens To Eat?
Sometimes, poultry feeds you purchase at livestock feed stores contain ground acorns. These are considered safe for chickens to eat because they have been properly prepared beforehand.
If the poultry feed was produced by a reputable company and was specifically made for chickens, then you can assume it is safe even if it contains acorns. Feed companies grind and leach the acorns properly before adding them to any feeds they produce for chickens.
Are Oak Leaves Safe For Chickens To Eat?
If you did not already know, acorns are produced by and fall off of oak trees. Oak trees usually grow to be very large and have massive trunks.
Unfortunately, oak leaves are not safe for chickens to eat because like acorns, oak leaves contain tannic acid. Although eating a fallen oak leaf or two would probably not kill a chicken, any significant amount of tannic acid can and will lead to severe issues in a chicken.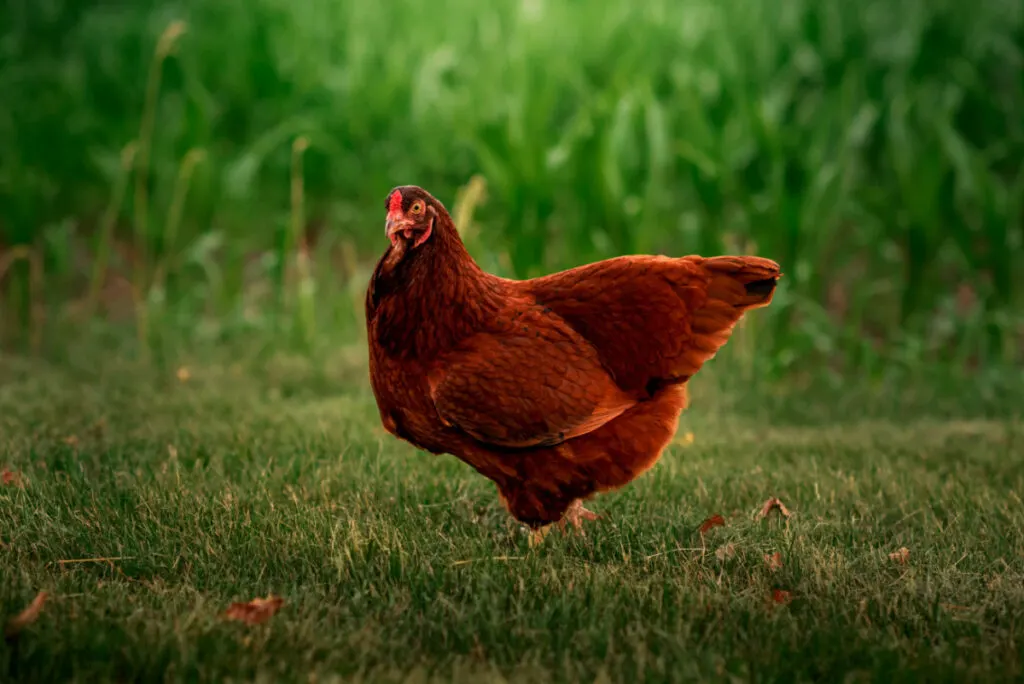 What Are The Symptoms of Tannic Acid Toxicity In Chickens?
Chickens that are suffering from the effects of tannic acid toxicity, also known as Quercus poisoning, after eating raw, freshly fallen acorns will show noticeable symptoms. They will show signs of nausea, vomiting, constipation, diarrhea, and general gastric discomfort.
Chickens that have consumed too much tannic acid from acorns will also be lethargic and it may be difficult for them to walk. They may defecate more than usual and be extra thirsty.
What To Do If Your Chicken Gets Quercus Poisoning?
The first thing you need to do is keep the chicken from eating any additional acorns. Provide access to fresh water and give them a poultry supplement with at least 10% calcium hydroxide to help counter the effects of the tannic acid.
You can also give your chicken some mineral oil or magnesium sulfate to aid their digestion and move things along. The goal is to get the tannic acid out of the chicken's system as safely and quickly as possible.
If the chicken does not appear to improve rather quickly with these methods, consult a veterinarian for advice.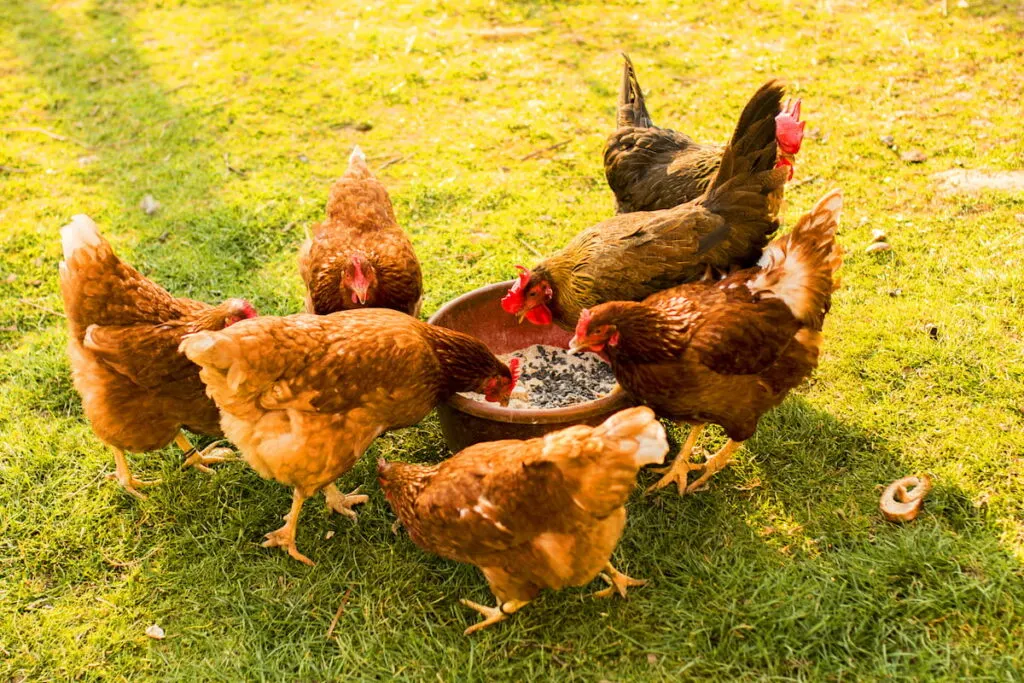 Tips To Keep Your Chickens Safe Around Acorns
If you have an oak tree on your property, there are some things you should do to keep your chickens safe from the dangers of fresh acorns.
1. Try To Keep Chickens Away From Oak Trees
If possible, do what you can to prevent chickens on your property from eating fresh fallen acorns and oak leaves in the first place.
2. Provide a calcium hydroxide supplement.
One way to lessen the effects of tannic acid is to provide a poultry-safe supplement with around 10% calcium hydroxide. This will help to offset the tannic acid the chickens consume while eating fresh acorns or oak leaves.
3. Make sure they have plenty of other food.
If you simply cannot keep your chickens away from an oak tree, make sure you provide them plenty of food they enjoy to prevent them from eating so many acorns.
Final Thoughts
While many chickens may not even like eating acorns at all, some chickens will and it is better to be overly safe than sorry when it comes to poultry. The reality is that chickens can get very sick if they consume too much of the tannic acid that coats both acorns and oak leaves. Luckily, you now know how to spot, prevent, and prepare for potential acorn-related issues with your chickens.
Resources:
Learning about the health issues that raw acorns can create in chickens was a real eye-opener. Here are the sources used to craft this article.