*This post may have affiliate links, which means I may receive commissions if you choose to purchase through links I provide (at no extra cost to you). As an Amazon Associate I earn from qualifying purchases. Please read my disclaimer for additional details.
While most chicken owners love their hens, many of us keep at least one or two roosters around as well. They are awesome watchers of the flock, protecting hens and babies as they forage on pasture. They also complete the "farm" feeling each morning as they crow.
Choosing the perfect name for your rooster can be fun. There are so many different options to choose from. So how do you settle on the perfect rooster name for your male chicken? Here are some name ideas to get you started.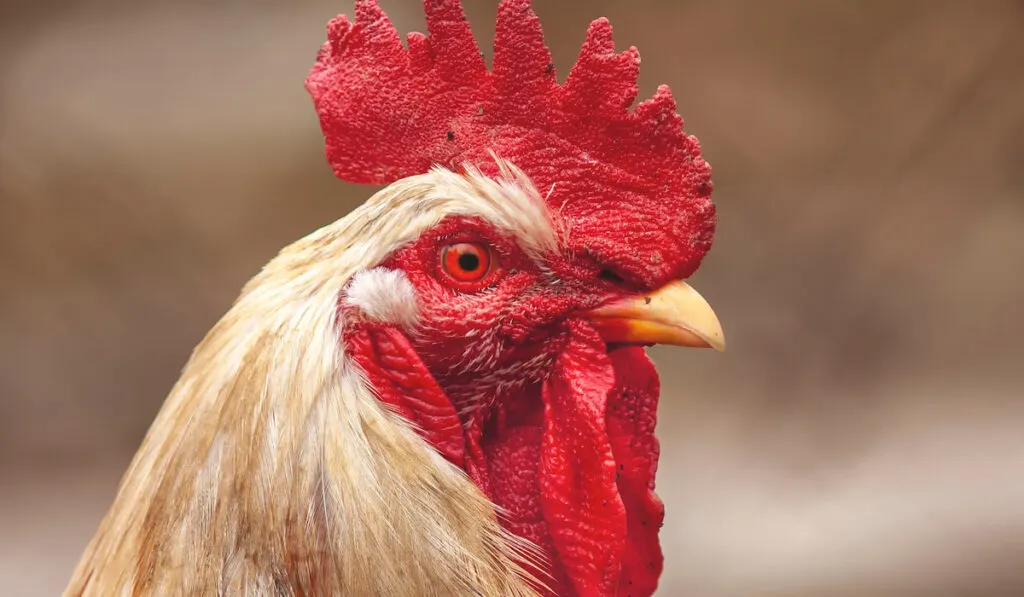 Top 10 Rooster Names
Cluck Norris
Russell Crow
Gregory Peck
Lester (the ….)
Rooster Cogburn
Lone Ranger
Stew, Lord of Empty Pot
Dr. Pecker
Cluck Garret
Count Cluckula
Funny Rooster Names
What makes a name funny? I suppose that depends on the audience right! Typically, though, this involves a play on words or, sometimes, naming your rooster after a favorite chicken-based food item. Here are some ideas:
Cluck Norris – after Chuck Norris
Crock Pot
Doodle Doo – the perfect name for your C… (male chicken).
Drumstick – because he is lucky he isn't one.
General Tso – get it!
His Eggselency – for the rooster that thinks he is royalty.
Larry Bird – because why not!
Roo Paul – Cause he's so fabulous!
Russell Crow – for that handsome boy of yours
Stew, Lord of Empty Pot – because he could have been dinner.
Tyrannosaurus Pecks – for the rooster that won't leave the ladies alone.
Western Rooster Names
In this category, we can look at great male names in history, film and literature, and adapt them for our pet roosters. Let's start out with some of the more famous western names.
Cluck Garret – after Buck Garrett who was a Gunfighter and Lawman
Cluck Taylor – after Buck Taylor who was an Actor in Gunsmoke
Iron Eyes Crowdy – after Iron Eyes Cody
Kid Cluckity – after Kid Cassidy
Red Ryder
To keep things a bit more basic. Try these traditionally western sounding names for your male chickens.
Amos
Apache
Bailey
Billy
Boots
Brisket
Carter
Cisco
Clyde
Cody
Colonel
Doc
Dumplin'
Garrett
Grainger
Gunslinger
Hank
Jeb
Landon
Rhett
Ringo
Tex
Wade
Waylon
Wyatt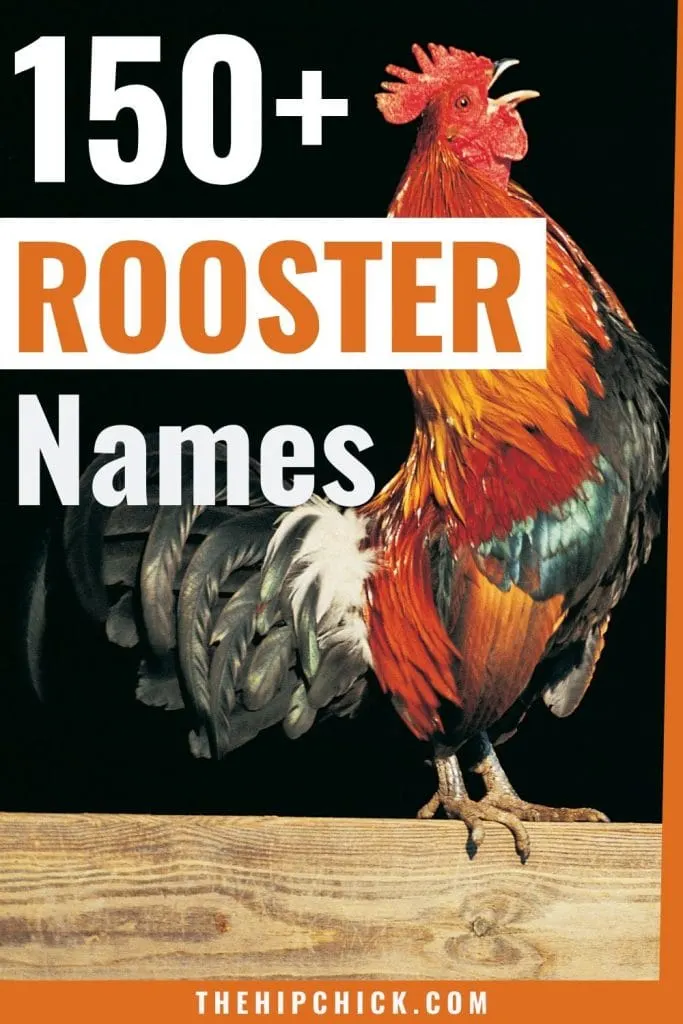 Fancy Rooster Names
What makes a rooster name fancy? Usually, that means adding some kind of title to the name. Whether you use a royal title or a military rank, you can easily make a rooster name extra fancy with some of these ideas.
Admiral Eggbar
Brigadier Bodie
Captain Nugget W. Sauce
Mr. Crows A. Lot
His Excellency Sir Snuggles
King Crow
Lord Peck of Cluckingham Cottage
Señor Doodle
Prince Plucker
Supreme Leader Skelter
Rooster Name Prefixes and Titles
Admiral
Brigadier
Captain
Chancellor
Chief
Colonel
Commander
Commodore
Comrade
Corporal
Count
Dr.
Emperor
General
His Excellency
His Grace
His Honour
His Lordship
King
Lieutenant
Lord
Major
Master
Mr.
Officer
Prince
Private
Professor
Señor
Sergeant
Sir
Supreme Leader
The Honourable
Vice-Chancellor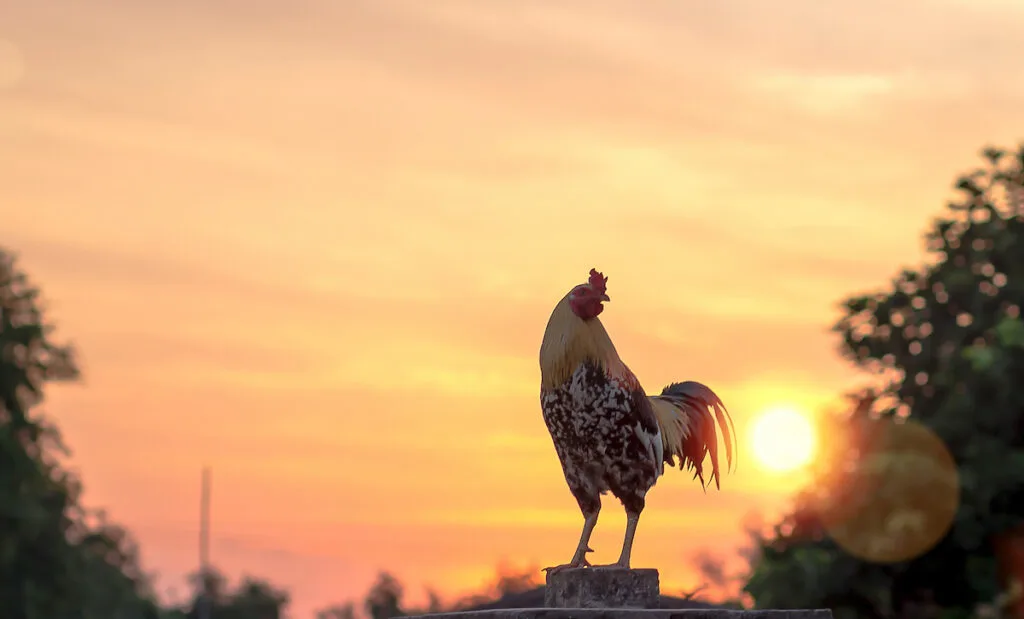 Rooster Name Suffixes
For Mr. Fancypants, or whatever fancy name you give your rooster, consider adding a suffix as well.
Some of these can even be combined like, "Mr. Fancypants Earl of Chester Coop". Be sure to have fun with it!
Baron
Earl
Grand Duke
of [your coop name]
of [your farm name]
Prince
the Second
the Third
Famous Roosters
Allan-a-Dale – from the cartoon classic Robin Hood (1973)
Chicken Little
Cocky Locky – from Chicken Little
Foghorn Leghorn (does he need an introduction?)
Gyro Gearloose – from DuckTales
Heihei – from Moana
Mort the Chicken – from the Playstation game.
Pepito Chickeeto – from the cartoon
Panchito – from The Three Caballeros (1944)
Spanish Rooster Names
Names in Spanish can be fun for a rooster and tend to roll of the tongue nicely. Here are some ideas:
Ademar – strong and famous
Adolpho – distinguished
Alfonso – noble and prepared.
Andres – manly
Benito – the blessed one
Blanco – white.
Calzetuda – booted.
Carlitos – a free man
Cesar – lots of hair
Eduardo – wealthy guard
Elonso – ready for battle
Enrico – ruler of the house
Fausto – fortunate
Federico – a calm king
Felipe – a friend of the horses
Gallo – rooster.
Geraldo – ruler with a spear
Gregorio – watchful
Guapo – handsome
Henio – ruler of the house
Hernan – brave but peaceful
Leonardo – strong like a lion
Renaldo – wise ruler
Sergio – one who serves
Vicente – the one who conquered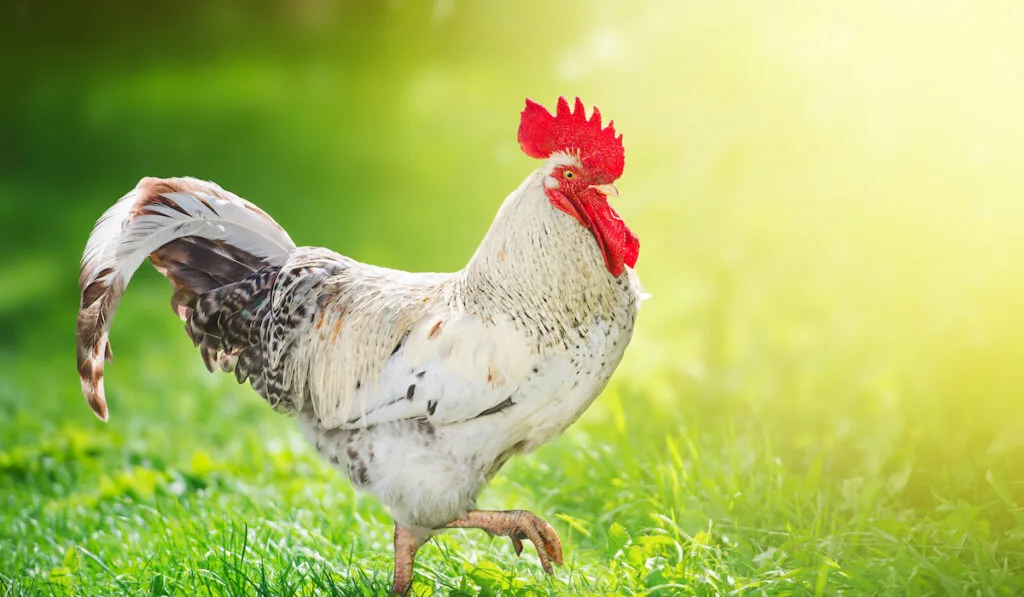 Common Rooster Names
These traditionally male names can also be great for your rooster.
Alfred
Antonio
Arrow
Baboo
Big Bird
Big Daddy
Big Red
Blackbeard
Bowie
Brooster
Bruno
Carlos
Coop Nazi
Cordon Bleu
Crowe
D'Artagnan
Dancer
Doodle Doo
Dozer
Duke
Dumbledore
Eager Beaver
Einstein
Fat Albert
Fowler
Fugly
Gorgeous George
Gotzilla
Happy Feat
Heffner
Horton
Hunter
Jerry Seinfeld
Kellogg
Khan – great name for an Americauna or Easter Egger Rooster
King
Lazarus
Little Red
Mader
Marango – the name of Napoleons Horse
Marley
Miles
Mocha
Nico
P Diddy
Pepper
Pierre
Prince
Professor McWattles
Puff Daddy
Puff Head
Quincy
Rocky
Romeo
Sampson
Seigfried
Sparky
Spike
Spooky
Stewart
What's your favorite rooster name?