*This post may have affiliate links, which means I may receive commissions if you choose to purchase through links I provide (at no extra cost to you). As an Amazon Associate I earn from qualifying purchases. Please read my disclaimer for additional details.
In the early stages of their lives, the plumage of chicks is not well-developed. For this reason, they cannot insulate themselves effectively. To this end, they try to find warmth by slotting themselves between their mothers' feathers.
However, heat is vital to the survival of chicks. They may need more than just the heat from their mothers, which can be provided by the right supplemental sources.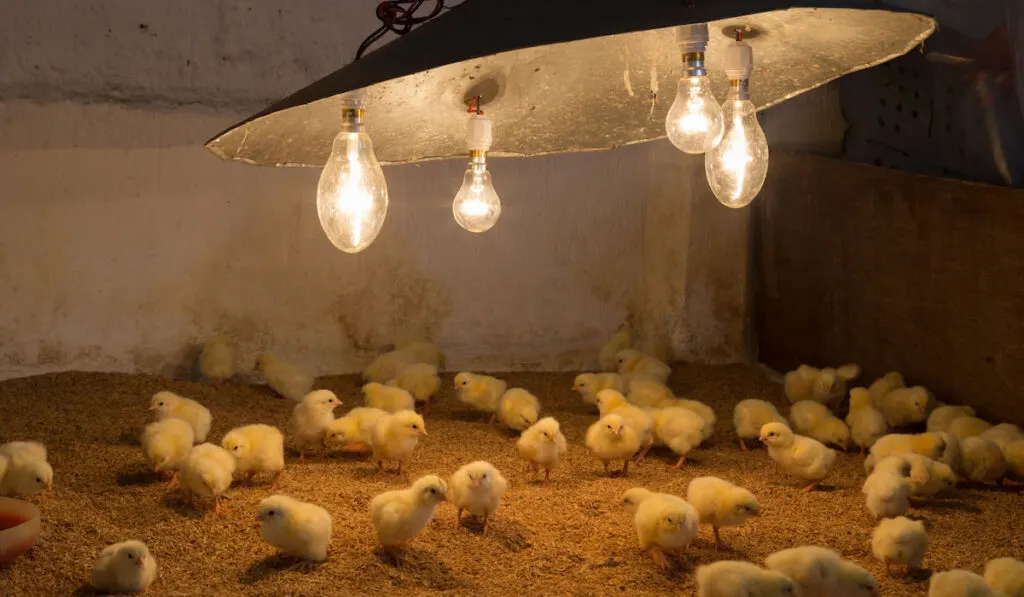 One of the most common sources of supplemental heat for chicks is heat lamps. While there are various products in the market, you can be sure they do not offer the same experiences.
When anyone buys a product, they expect the best from it. We know you feel the same about heat lamps for your chicks.
To help guide your buying decision, this article recommends some of the best heat lamps for chicks.
1. K&H Pet Products Thermo-Peep Heated Pad
Sale
K&H Pet Products Thermo-Peep Heated Pad
OUTDOOR WARMTH: Perfect for peeps and chickens, our heated chicken pad is specially designed to keep chickens and peeps warm when sitting or lying on the pad
VERSITALE: Chicken heated pad is for indoor or outdoor use and with the pre-drilled hole can easily be mounted vertically or horizontally in your chicken coop to provide your flock with warmth
DURABLE: Peck resistant features like rigid ABS plastic construction, steel encased capped cord and rounded edges make it perfect for large flocks and baby chicks
ENERGY EFFICIENT: Thermostatically controlled 9" X 12" heated outdoor pad is low wattage using only 25 watts of electricity to keep your feathered friends warm
This product is a heated pad measuring 9 x 12 inches. It consumes only 25 watts of power. If saving energy is important to you, this product should suit you.
The heated pad comes with a thermostat, so the temperature is controlled as needed.
The surface of this product is resistant to chewing and pecking making it safe for the chicks.
The heated pad comes with a cord 5.5 feet long, allowing you to move it over some distance. Around 18 inches of the cord is encased in steel to stop the chicks from damaging it.
You can install the pad vertically or horizontally. The corners are already drilled to permit installation, so you do not have to drill it yourself.
2. Magicfly Chicken Coop Heater
Magicfly Large Radiant Heat Chicken Coop Heater
【Visible Temperature Display and Remote Control】 Unique visualized temperature display design and remote control (remote and battery included) helps you easily see and adjust the temperature without entering chicken coop. The temperature adjustment range of 130~160℉/(55~71℃) and you can adjust it by pressing the button "-" or "+" on the LED display or by remote control within 19.7 ft/6 m(without any barrier)
【Energy Save】 Comfortable and larger heat panel design protect chicks, birds from the cold in winter. The heater size is 19.68"X14", lager than other heater and it only consumes 165 watts of electricity, which is 90% more energy-efficient than traditional 1500 watt heaters lamp
【Safer design】 Magicfly chicken heater has "button locking" function to prevent operation caused by birds touching the buttons. This heater panel also has "Automatic power off" function, which will stop working when accidentally falling to the ground, better avoid fire and other dangerous
If you want an automated experience, the Magicfly Chicken Coop Heater will meet that need. This heater comes with remote control that you can use to adjust the temperature without entering the coop.
On the heater, there's an LED display that shows the temperature the heater is maintaining.
The product has a temperature range of 130-160 F. It consumes about 165 watts of power, which is relatively efficient compared to the regular 1500 watt lamps.
The Magicfly Chicken Coop Heater is poised for safety.
If the radiant face falls to the ground or is tilted toward a 180-degree angle, it will power down automatically. With this feature, there should be no fire hazard even if it falls.
This product also has a button locking feature that prevents the chicks from interfering with the heater's function.
This heater uses only radiant heat – no lights. You needn't worry about the chicks getting stressed from the brightness.
You can install the Magicfly Chicken Coop Heater in various ways. You may hang it on the wall, let it lay flat on the floor, or let it stand. The 9.84 foot-long wire makes installation over some distance easy.
If you intend to hang it on the wall, you have to get nails or screws for that purpose. Besides using this heater in your coop, you may also use it indoors.
Since this heater only works between 130-160 F, you may want to confirm that this will be warm enough for your area before buying.
3. OMAYKEY 100W 2-Pack Ceramic Heat Lamp
2-Pack 100W Ceramic Heat Lamp with 1-pcs Digital-Thermometer
✔ This 100W black infrared heat lamp is made of solid ceramics element, it has a perfect heat radiation feature and no light emitted. Great for pet, lizard, coop, chicken, turtle, snake, chameleon, bearded dragon, aquarium, with one digital thermometer included. ★ PLEASE NOTE: The digital thermometer is placed in the built-in box of the ceramic lamp. Please open the ceramic lamp box when receiving the package.
✔ This ceramic heat lamp is simple and easy to install, just screw it into a standard porcelain E26 or E27 screw socket (ATTENTION: Use only with a porcelain socket, because the plastic socket may melt the lamp holder)
✔ This heat lamp bulb is ETL Listed, input voltage is AC 90-120V, power is 100-Watts, full size is diameter 3.15 inch x height 4.13 inch
This product comes with 2 black ceramic lamps in the pack. They do not emit light, only infrared radiation. The lamps should not affect the sleep schedule of your chicks.
The lamps are made of ceramic, and they give off 100 watts while working between 90-120 volts.
They are easy to install. As long as you have an E27 porcelain socket, all you have to do is screw the lamp in.
The Omaykey 100-watt lamps have a relatively long life. On average, they last 9000-15,000 hours.
At 100 watts, this product consumes relatively lower power than many other heat lamps.
Besides the 2 lamps in the pack, you should also find a digital thermometer.
The thermometer comes with a probe. With the thermometer, you can check the temperature of the coop while the lamp is in use.
Since this product does not have temperature control, you may have to get one when you buy it.
4. Woods Clamp Lamp with 10 Inch Reflector and Bulb Guard
Woods Clamp Lamp with 10 Inch Reflector and Bulb Guard
Extension cord; ideal for landscaping; and powering appliances such as a shop vac; weed wacker; bush trimmer; leaf blower and electric lawn mower
16 GAUGE; 3-pronged; 100 ft extension cord provides 10 AMP; 1250 watts and 125 volts
HIGHLY VISIBLE orange jacket provides extra safety and prevents tripping while working in the yard
You can use this product in various places besides the coop of your chicks. Luckily, moving it from one place to another and installing it is pretty uncomplicated. The clamps also contribute to the ease of installation.
The Woods Clamp Lamp comes with a 10-inch aluminum reflector. With this reflector, you can redirect and refocus the light as you desire.
This heat lamp has a 6-foot cord. This makes it possible for you to mount it over some distance. It can support e26 porcelain bulbs with a power rating of up to 300 watts.
But you may want to avoid 300-watt bulbs since they may inflate your electric bill.
5. Cozy Safe Chicken Coop Heater
Sale
Cozy Products CL Cozy Safe Chicken Coop Heater
LOW HEAT OUTPUT: Unlike traditional high wattage heaters, this 200 watt warmer puts out a low amount of heat which is ideal for chickens and young chicks, is much safer than heat lamps, and saves a lot on energy costs
A CHICKEN COOP WARMER DESIGNED WITH SAFETY IN MIND: Safer than brooders or dangerous heat lamps, the Cozy Coop is ETL listed and rated for zero clearance; Third party certifications ensure that product is safe to use
PROTECTED CORD: Our cord is protected and durable, so chickens are not hurt if they peck at the electric cord with their beaks, and it keeps curious chicks, ducks, chickens, pets, or small birds safe in the barn, hutch, coop, or outdoors
This heater works by using radiant heat technology, so, it does not emit light that can affect the sleep schedule of your chicks.
The product comes with a thermostat and an in-cord switch. These features give you some control over the temperature of the heater.
The Cozy Safe Chicken Coop Heater works at a maintenance temperature of around 130 F, but it is best suited for small spaces. It comes with a safety feature that allows it to shut off if the temperature exceeds 180 F.
The product only consumes around 200 watts, which, compared to regular space heaters, is energy saving.
Another thing about this product is the sleek design; it is easy to move around and use.
Since this product is more suited for small spaces, you may have to get more than one unit if you have many chicks in a large coop.
6. KOR 250R40/1 250-Watt, Incandescent R40 Reflector, Clear Head Lamp
Incandescent R40 Reflector, Head Lamp, Heat Flood Lamp Light Bulb
Pack of 2 Infrared Light Bulbs: Get double the warming power with two heat bulbs for chickens , livestock and reptiles. Use one as a handy chicken coop light and install another in the bathroom for luxurious all-over warmth (no more post-shower chills!).
2,000 Hours of Cozy W armth: No need for frequent bulb replacement. Our 250 W att Heat Lamp Bulb is rated for 6,000 hours of long-lasting use. And with a 120V , it' s conveniently energy-ef ficient for reliable heating that doesn't break the bank.
Fast-Acting W arming Lights: When your furry friends are shivering, they need heat and they need it NOW! With just a flip of the light switch, you'll feel cozy warmth filling the space within seconds. Ahhhh, so toasty!
So Many W ays to Use: From warming up furry friends to keeping food from going cold, our infrared bulbs do it all. They perfectly mimic natural red light to stimulate plant growth, and can even be used in spas for red light therapy or steamy sauna sessions!
Perfect for Animals of All Kinds: Quickly warm up chilly chicks, icy iguanas, and other frosty pet friends in need of heat. From puppies to piglets, lizards and snakes, each red light lamp creates the all-over warmth they need to survive harsh temperatures.
With this product, you are getting an infrared heat lamp that consumes about 250 watts of power. The surface of this lamp is deep red. Compared to white light, this should stress the chicks less.
The KOR Incandescent R40 Reflector Head Lamp comes with an e26 base. If you have the matching socket, all you have to do is screw it in to install it.
On average, the bulb should work for up to 6000 hours, which is at least 5-6 times the lifespan of a regular incandescent bulb.
This product does not come with temperature control, so you may have to get something for that purpose.
7. petnf Chicken Coop Heater
Sale
PETNF Chicken Coop Heater 140 Watts Radiant Heat Chicken Heater
【Thermal Protector & Heat-Sensitive Sticker】: Comes with a power switch with a temperature adjustment range of 122~167℉/(50~75℃); Effective radiant heat range within 40 cm. The heat-sensitive sticker will alert you to the condition of the temperature. (This sticker is black for temperatures below 45℃/ 113℉ and red for temperatures above 45℃/ 113℉).
【Energy-efficient Design】: Reducing electricity use is our eco-friendly design philosophy. The power consumption is ONLY 140 Watts makes it more energy efficient than most of others.
【UL Test Standards & Thermostatic System】: The built-in heating wire complies with UL standards. Compared with similar products, we have added an additional thermostat which working continuously in the circuit to provide dual protection!
The petnf Chicken Coop Heater has a temperature adjustment range of 140-167 F, with a heat range of up to 40 meters. It comes with a switch with which you can adjust the temperature.
Right on the radiant surface, there's a heat-sensitive sticker. This sticker goes black when the temperature falls below 113 F and stays red above 113 F. The heater also has a thermostat inside
This heater operates at 140 watts. When compared to the traditional space heaters, it is energy saving. Your electric bill should not feel the effect of this addition too much.
This heater comes with an built-in fuse, just in case there is an electrical fault. This fuse adds a layer of safety to the whole product, thus reducing the likelihood of fire.
The petnf Chicken Coop Heater is easy to install, and it can be installed in 2 ways: you can let it stand or hang it on the wall.
You should verify that the 140-167 F temperature range would suffice in your environment before buying.
Summary
The products in this list vary from heated pads to heat lamps and radiant heaters. Each one offers different energy consumption levels, temperature range, temperature control, and ease of installation.
Their safety features also vary. When making the best choice for you make sure you consider all of these factors.