*This post may have affiliate links, which means I may receive commissions if you choose to purchase through links I provide (at no extra cost to you). As an Amazon Associate I earn from qualifying purchases. Please read my disclaimer for additional details.
Whether you're a bird spotter or a seasoned hunter, when it comes to duck varieties, there is no denying that Texas has a lot to offer.
From the Mallard and wood ducks of the north to the Redheads of the south coast and the Teal of the Gulf prairies and coastal marshes, the Lone Star State has something for everyone.
Whether it's year-round residents or seasonal visitors, this great state provides the perfect landscape for ducks to thrive in large numbers.
In this article, we will look at the most common duck species found in Texas year after year and the more occasional visitors that are harder to spot. Read on to find out more!

1. Black-bellied Whistling Duck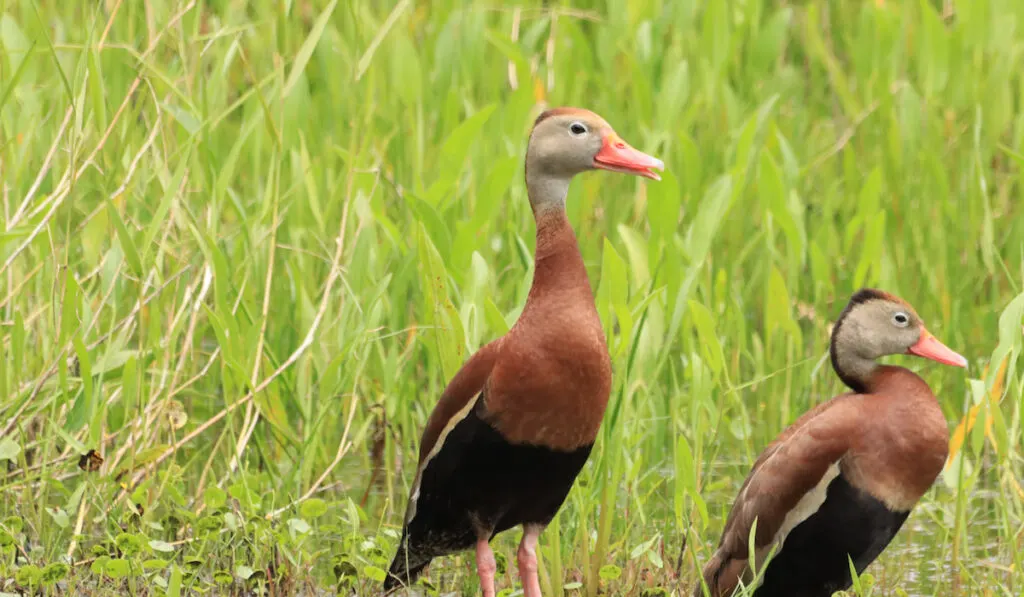 Description
The Black-bellied Whistling Duck is a medium to large-sized, high-spirited duck distinguished by its unusual, long-legged shape.
The size and coloring of male and female black-bellied whistling ducks is almost the same.
If this duck's pink legs and tall, erect body weren't enough to give it away, it also has a high-pitched whistle, making it easily distinguishable from most other ducks.
While flying, this bird displays a large white patch on its upper wings and frequently tilts its head downward.
Food
Black-bellied Whistling Ducks typically feed at night, and at sunset, they leave their roosts in search of food. While they have a mostly plant-based diet that includes smartweed, amaranth, and nightshade, they also eat insects and small aquatic animals like snails.
Nesting
While Black-bellied Whistling Ducks sometimes nest on the ground, typically, tree cavities or decaying tree trunks are where you will find them. They don't waste time building a nest there, either. They are usually satisfied with whatever their chosen tree hollow is like to lay their eggs in.
Black-bellied behavior
Black-bellied Whistling Ducks can be seen in flocks of around 1,000 birds as they are gregarious creatures. They court and find partners in winter, and females often use the nests of other Black-bellied Whistling-Ducks to lay their eggs.
Key information:
Behavior: Dabbler
Habitat: Marshes
Nesting: Cavity
Weight: 28.8 ounces (816 grams)
Length: 18″ to 21″
Wingspan: 35″
Food: Mostly plant-based with insects and small aquatic animals
Clutch size: 9 to 18 eggs
Egg color: White
Egg size: Length 2.2″ Width 1.4″
2. Fulvous Whistling Duck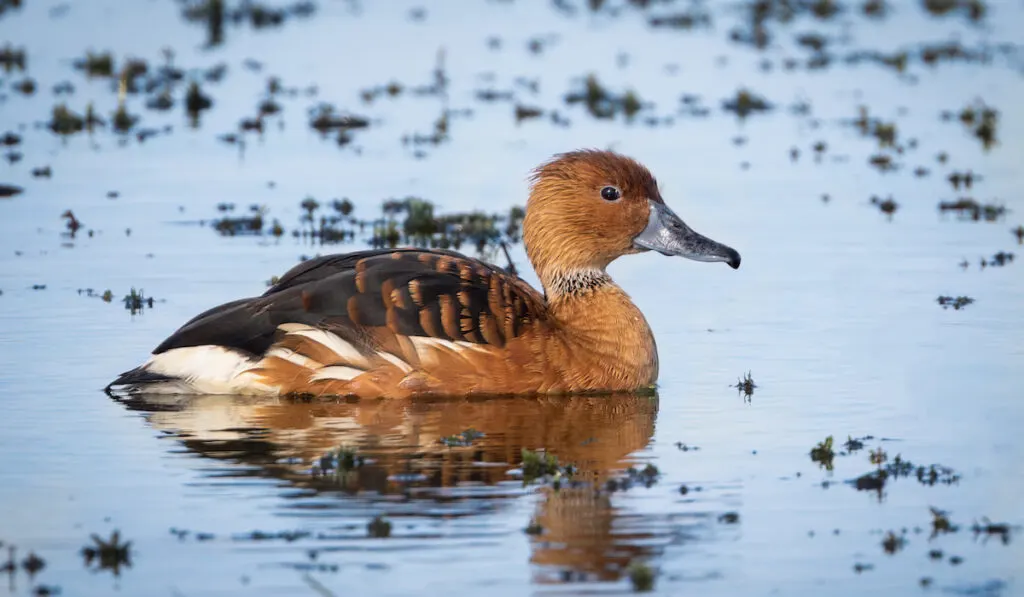 Description
The Fulvous Whistling Duck is an outstanding-looking bird that stands tall with its long neck and legs.
This whistling duck is not to be mixed up with the Black-bellied Whistling Duck. While in flight, the underside of the Fulvous Whistling Ducks wings is very dark in color, and they have white tail feathers that form the shape of the letter "U."
Food
Fulvous Whistling Ducks are filter feeders who forage for food by extracting seeds from mud they have strained through their bills. Never too far away from the rice fields they love to feed on, these birds also eat invertebrates like earthworms and snails, but this part of their diet is mostly for their ducklings.
Nesting
Both male and female Fulvous Whistling Ducks search the landscape together while looking for the ideal nesting spot in rice fields or marshy areas with vegetation such as reeds, rushes, or grasses.
After choosing the perfect spot together, they bend the surrounding vegetation to form a bowl shape. If the nest gets flooded, they will add grasses from the marsh to protect their nest from decaying.
Fulvous Behavior
After a brief pairing ritual, mating commences, and unlike most ducks, the male and female Fulvous Whistling Ducks stay together year-round.
During that year, they do everything in flocks. They can be found foraging, resting, and roosting together as their loud whistling calls echo from marshes and flooded rice fields.
While sometimes impatient, Fulvous Whistling Ducks lay their eggs even if the nesting area is not completed, and around mid-April, for a month or so, both partners incubate their eggs.
Key information:
Behavior: Dabbler
Habitat: Marshes
Nesting: On the ground
Weight: 25.6 ounces (725 grams)
Length: 18″ to 21″
Wingspan: 36″
Food: Seeds and invertebrates
Clutch size: 2 to 44 eggs
Egg color: White
Egg size: Length 2.2″ Width 1.6″
3. Mallard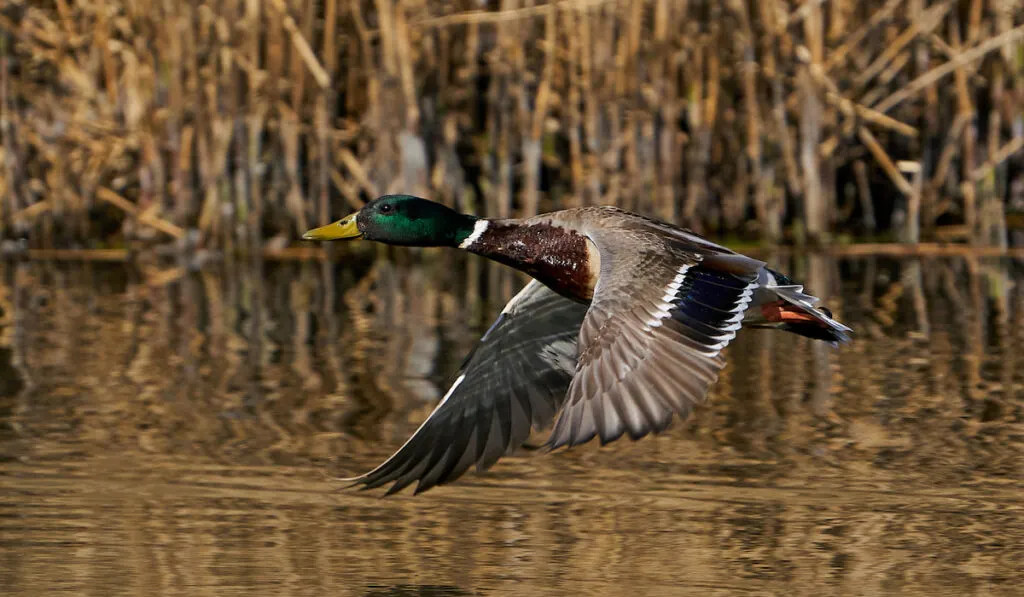 Description
While male Mallards' bodies are a mix of gray, brown, and black from their necks to their tail feathers, their heads have an amazing velvet green color that shines in the sun and a bright yellow bill to finish off their splendor. Females have a mottled brown finish all over and a brownish-yellow bill.
Food
Mallards are dabbling ducks that don't dive for their food. Instead, they are often spotted with their tail feathers in the air as they tip forward in the water, looking for seeds and vegetation.
But when it comes to mating season, Mallards consume insect larvae, earthworms, and freshwater shrimp, to name a few. They are common visitors to city parks and ponds looking for handouts from passers-by.
Nesting
Mallards look for nesting areas in pairs, and after locating a good spot, they will usually be found in long grasses or other vegetation as long as the nest is concealed and close to water.
While sitting on her nest, the female will pull chunks of whatever vegetation she can reach into the nest. And when egg laying begins, she will pull longer grass over herself and the nest to conceal everything.
Mallard Behavior
Because Mallards are heavily hunted in the wild, they are easily scared of people, but in a city, they are much less stressed thanks to people feeding them in the parks.
Interestingly, only female Mallards quack while the males produce a rasping sound. Another notable thing about these famous ducks is that they often live pretty long lives. Mallards have been recorded living up to 27 years old!
Key information:
Behavior: Dabbler
Habitat: Lakes and ponds
Nesting: On the ground
Weight: 35.3 to 45.7 oz (1000 to 1,295 grams)
Length: 19.8″ to 25.5″
Wingspan: 32.4″ to 37.3"
Food: Seeds and vegetation. Animal matter during mating season
Clutch size: 1 to 13 eggs
Egg color: Gray or greenish-buff
Egg size: Length 2.3″ Width 1.7″
4. Gadwall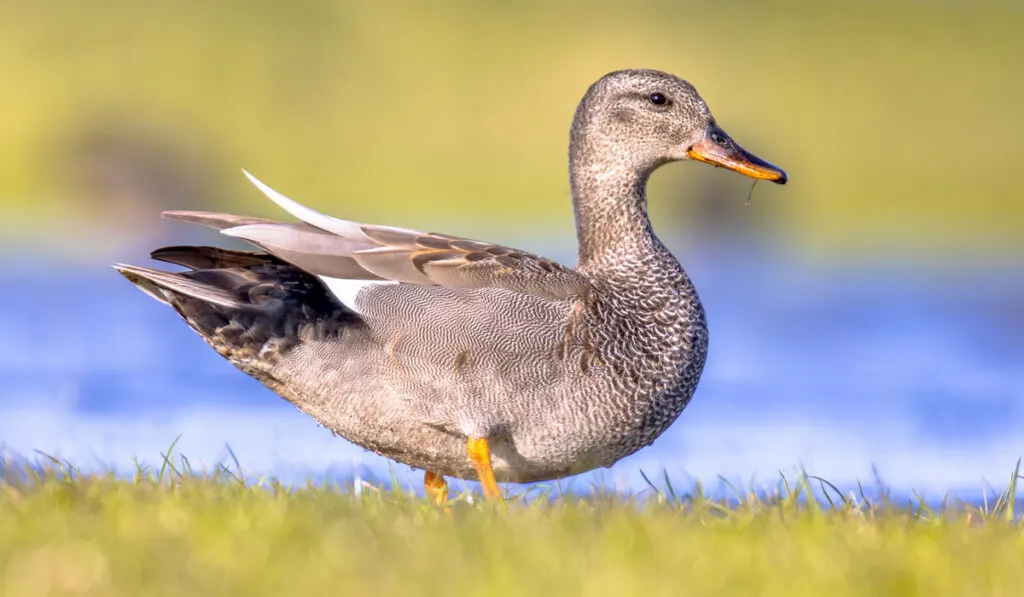 Description
While female Gadwalls have a strong resemblance to the female Mallard, males have an understated beauty when compared to others.
Food
Gadwalls occasionally feed on invertebrates like snails and water beetles, however, they mostly eat aquatic vegetation like algae, grasses, pondweed, and water milfoil. They have been known to steal food from diving ducks as they resurface also.
When it's breeding season, Gadwalls eat much more animal matter, but this dramatically decreases during winter.
Nesting
During migration, Gadwalls form pairs, and when it comes to the breeding season, they select a nesting area from the air. The female will investigate the area on foot to ensure it's the right spot.
Dense brush and tall grasses are the main requirements; water must be nearby before nesting can commence.
The female will settle into a hollow she has scratched out for herself and then form a nest cup by grabbing twigs and leaves around her. For insulation, she will pluck her down feathers and place them on the nest cup.
Gadwall Behavior
During winter, you may find Gadwalls in freshwater and saltwater marshes, reservoirs with dense vegetation, beaver ponds, and streams. While moving in flocks, they choose wetlands with plenty of vegetation to feed in.
Females usually find partners by the end of November, as courtship occurs mostly in the fall and early winter. During mating season, Gadwalls stay with one partner.
Key information:
Behavior: Dabbler
Habitat: Marshes
Nesting: On the ground
Weight: 35.2 oz (997 grams)
Length: 19″ to 23″
Wingspan: 31″ to 36"
Food: Aquatic vegetation
Clutch size: 7 to 12 eggs
Egg color: Dull cream
Egg size: Length 2.3″ Width 1.5″
5. Northern Pintails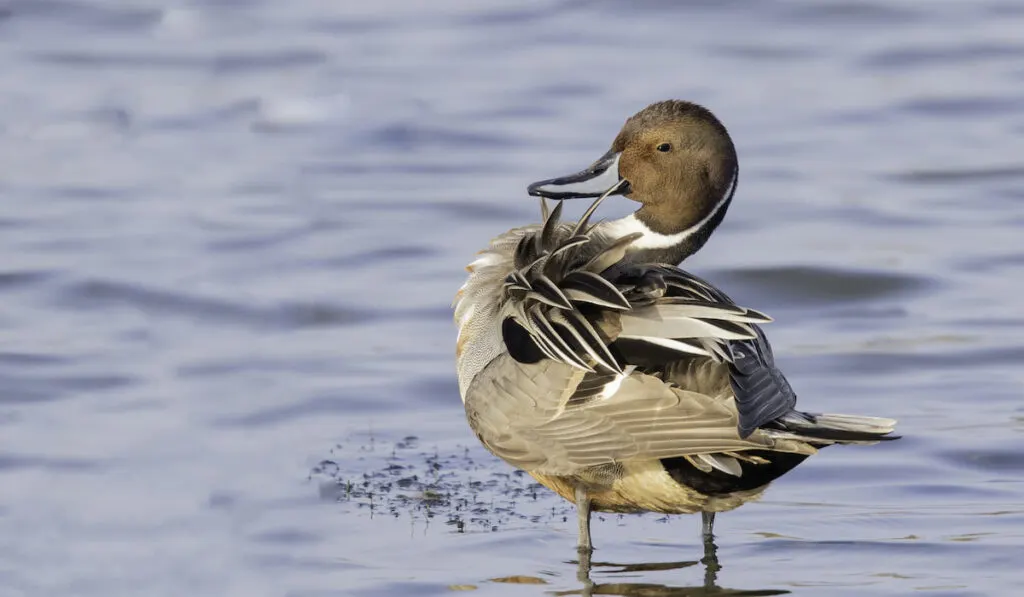 Description
Northern Pintails are pretty easy to spot while on the water. Just look out for the elegant males wearing what resembles an open gray jacket with a white shirt buttoned up to the neck and with their brilliant brown heads held high. And if that doesn't catch your attention, the Northern Pintail's signature tail feathers pointed in the air will.
The females are wearing an all-in-one intricate, scaled pattern in different shades of brown throughout their bodies.
Food
Northern Pintails eat grains such as rice, wheat, and corn, and they use their bills to scoop aquatic insects as they walk along the water's edge of lakes and ponds. These dabblers also like to pick at aquatic plants, worms, and crustaceans; their long necks give them a clear advantage over other ducks, reaching up to 12" in the water.
Nesting
Northern Pintails like wetlands and croplands with short vegetation as their nesting places, and males and females choose the perfect spot together.
Unlike many other duck species, Northern Pintails nest further away from water and sometimes choose tilled croplands as a nesting area.
Females add grass and down feathers to a shallow bowl she scraped from the ground to lay their eggs on at the chosen location.
Northern Pintails Behavior
Northern Pintails are seemingly social birds that rarely have problems with other duck species. They spend as much time shuffling across the land as they do on the water, but they can also take to the air at a moment's notice.
Northern Pintails migrate in groups, and while the female is incubating, the males get busy forming flocks ready to migrate.
Key information:
Behavior: Dabbler
Habitat: Marshes
Nesting: On the ground
Weight: 36.2 oz (1,026 grams)
Length: 20″ to 26″
Wingspan: 29″ to 35"
Food: Aquatic vegetation, insects, and grains
Clutch size: 3 to 12 eggs
Egg color: Greenish-buff
Egg size: Length 2.2″ Width 1.5″
6. Redhead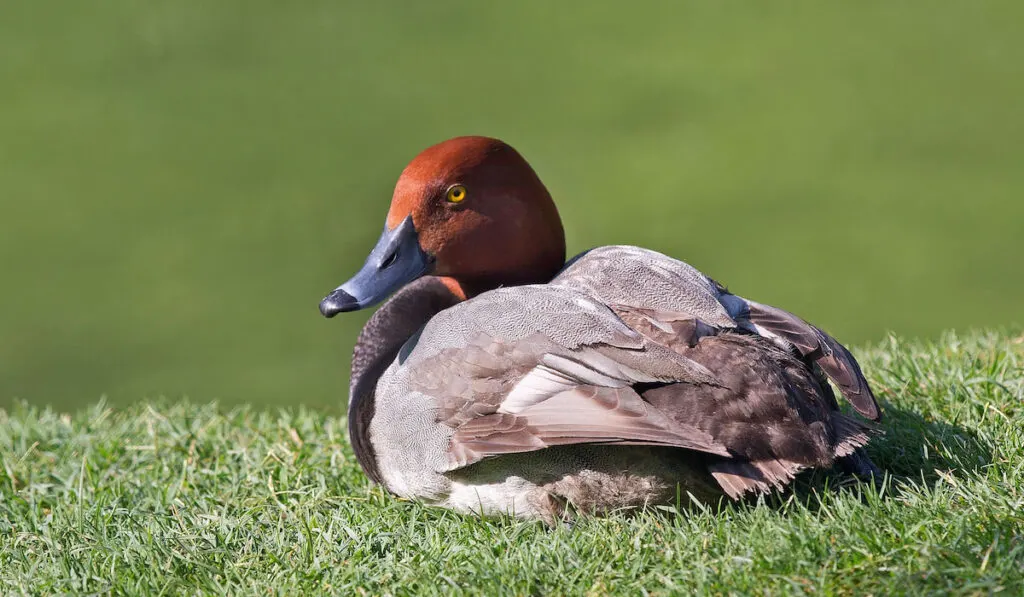 Description
Their exceptional appearance is complete with a blue-gray bill and black tip.
Redhead females and juveniles share the male's uniformly brown plumage and similarly patterned black-tipped, blue-gray bill.
Food
While Redheads are classed as divers, they also seem to dabble a lot in shallower waters while searching for invertebrates and vegetation.
When they do dive, they don't go to the same depth as other diving ducks when looking for food like green algae, hardstem bulrush, pondweed, and widgeon grass.
Nesting
A Redhead couple will fly low over the marshes in the morning and evening to look for suitable nesting locations. Having found an appropriate location, the male waits nearby while the female swims into thick underbrush in search of a perfect nesting spot safe from predators.
While working alone, the female Redhead builds her nest upon underwater vegetation. She weaves a 3-inch-deep nest in a bowl shape from plants within her reach and insulates it using her breast feathers. The nest is an impressive 2 feet wide upon completion.
Redhead Behavior
These fast-flying ducks are very social creatures that don't mind sharing feeding grounds with other species of ducks like Canvasbacks, Lesser Scaup, Northern Pintails, and American Wigeons. Sometimes they even work together as a mixed flock to find food.
Key information:
Behavior: Surface diver
Habitat: Lakes and ponds
Nesting: Floating
Weight: 43.3 oz (1,227 grams)
Length: 18″ to 22″
Wingspan: 19″ to 35"
Food: Aquatic vegetation and invertebrates
Clutch size: 7 to 8 eggs
Egg color: Pale buffy brown
Egg size: Length 2.5″ Width 1.7″
7. Common Merganser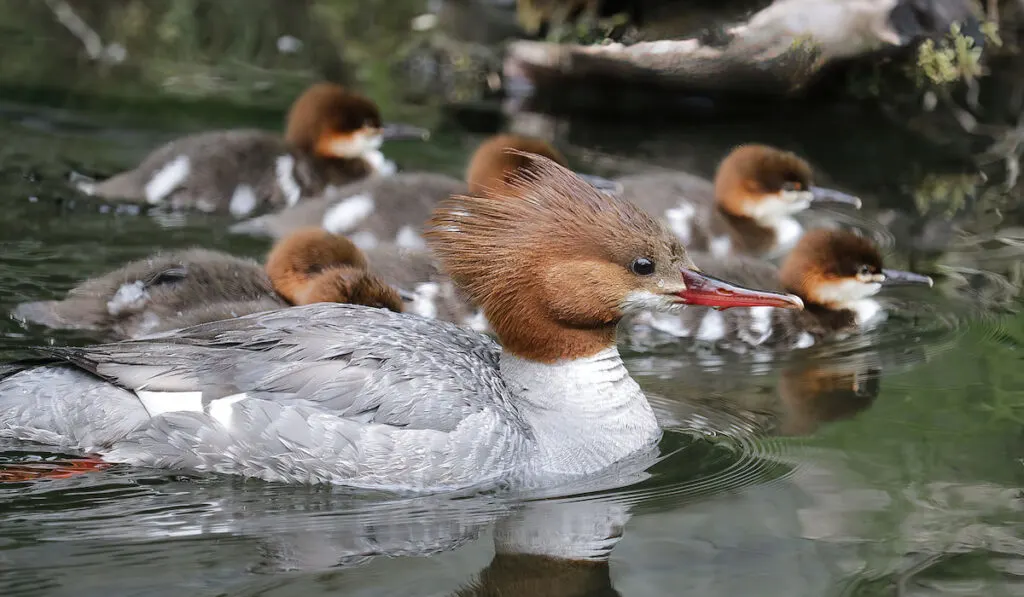 Description
Male Common Mergansers are streamlined-looking birds with white bodies up to their necks but with a black stripe along their backs.
Their heads are a gorgeous greenish-black, which makes their bright red bills stand out even more.
Food
Common Mergansers are delightful diving ducks that love to feed mostly on fish but are also known to enjoy aquatic creatures like crustaceans and mussels, to name a few. Thanks to their serrated bills, Common Mergansers have a clear advantage over other ducks when searching for food.
Nesting
While searching for a nesting site, the female Common Merganser takes control and does it alone. She will usually choose a natural cavity in a tree around a mile from water and up to 100 feet in the air.
Once she has chosen the ideal spot to nest, the female Common Merganser will scratch out a bowl shape in whatever wood chippings or old squirrel nests are lying around. Once she lays eggs, she will insulate the nest with her own plucked feathers.
Common Mergansers Behavior
Common Mergansers seem to have a relatively leisurely lifestyle. They spend much time floating, fishing, and even sleeping on the water.
You can also spot them in large groups at the water's edge from time to time, playing what seems to be "follow the leader." When one dives for food, they all do.
Key information:
Behavior: Surface diver
Habitat: Lakes and ponds
Nesting: Cavity
Weight: 60.8 oz (1,723 grams)
Length: 22″ to 27″
Wingspan: 31″ to 37"
Food: Fish and aquatic creatures
Clutch size: 6 to 17 eggs
Egg color: Creamy white or ivory yellow
Egg size: Length 2.6″ Width 1.9″
8. Red-breasted Merganser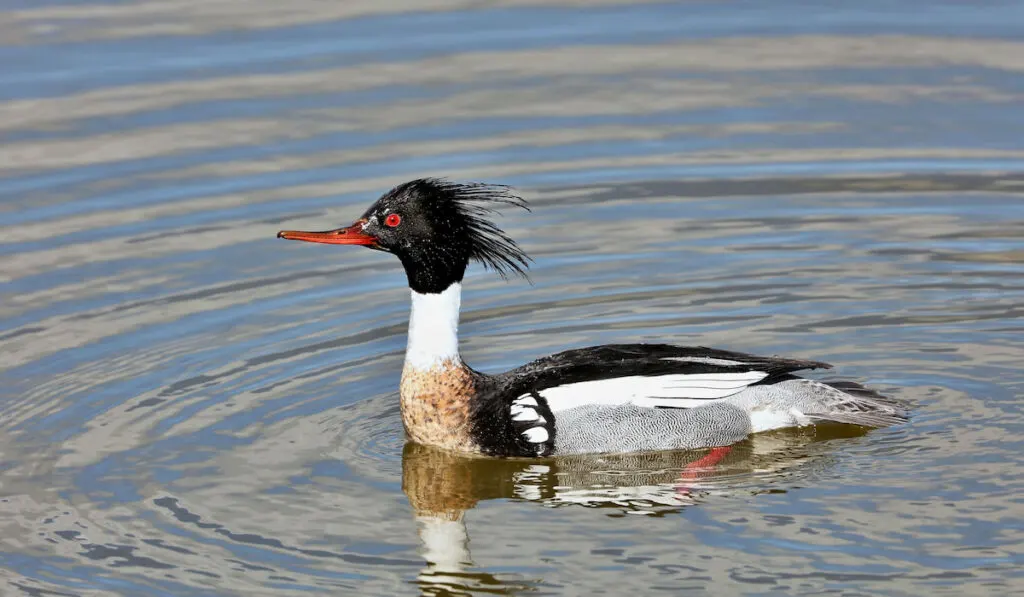 Description
A few striking details make the breeding male Red-breasted Mergansers' appearance so unique.
From there, a white ring around their necks separates their green heads from their rust-colored chests that blend into their bodies' black, white, and mottled gray.
Females and males outside of breeding season have a less colorful grayish-brown all over.
Food
With their serrated bill at the ready, Red-breasted Mergansers hunt for fish by diving or stalking just below the water's surface.
Mergansers have also been known to work as a team by creating lines and trapping minnows in areas with only one exit point, giving easy access to an abundance of food.
Nesting
The female Red-breasted Merganser is given the sole right to choose a nesting spot to lay her eggs. While she usually goes for marshy areas, lakeshores, or coastal islands, the perfect spot will always have dense vegetation to cover her nest on the ground.
By scratching out a bowl shape on the ground, female Red-breasted Mergansers will then cover the area with dead grasses and insulate it with feathers plucked from their bodies.
Red-breasted Merganser Behavior
With legs positioned further towards their tail feathers, these birds are excellent, efficient divers. And while the position of their legs makes walking more difficult for them, don't be fooled; these birds are not slow. When they are in full flight, these fast and furious birds have been recorded at 80 miles per hour!
Key information:
Behavior: Surface diver
Habitat: Lakes and ponds
Nesting: Ground
Weight: 47.6 oz (1,349 grams)
Length: 16″ to 26″
Wingspan: 31″ to 35"
Food: Fish and aquatic creatures
Clutch size: 3 to 24 eggs
Egg color: Olive buff
Egg size: Length 2.6″ Width 1.8″
9. Common Goldeneye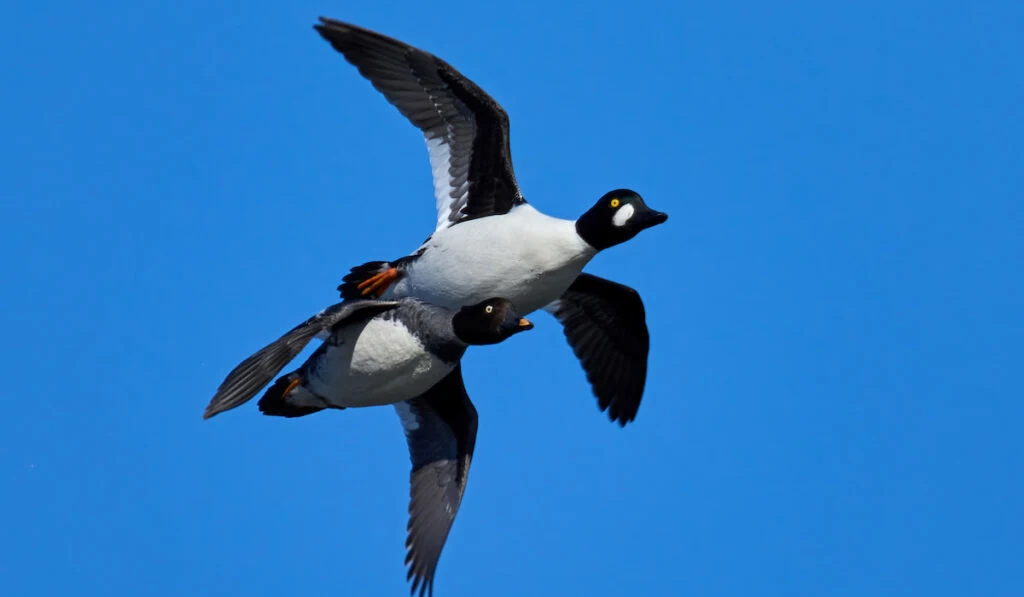 Description
Apart from their eyes, they have stand-out features, like white cheeks and greenish-black heads. Their white chests and sides give way to black backs and tail feathers.
While both male and female Goldeneyes have black bills, the similarities pretty much end there. Female Goldeneyes are brownish gray with brown heads.
Food
Common Goldeneyes are not fussy when it comes to their diet. While aquatic invertebrates, fish, and fish eggs make up part of their food intake, crustaceans and mollusks, like crabs, shrimp, and crayfish, are also preferred, with vegetation like pondweed, spatterdock, and bulrush on the side.
Nesting
Tree cavities made naturally by broken branches or by Pileated Woodpeckers are among the favorite nesting places that female Common Goldeneyes are on the lookout for as they search without their male partners.
The chosen nesting spot comes complete with the necessary wood chips or squirrel nests needed for the female Common Goldeneye to lay her eggs. All she needs to add are some plucked down feathers used to insulate her nest.
Common Goldeneye Behavior
These diving ducks congregate on the water in flocks of up to forty, and they often dive in synchronized pairs in search of prey. Capable of submerging themselves for up to sixty seconds, Common Goldeneyes swim very efficiently by streamlining their bodies and kicking with their feet.
Key information:
Behavior: Surface diver
Habitat: Lakes and ponds
Nesting: Cavity
Weight: Up to 46 oz (1,304 grams)
Length: 15.8″ to 20.1″
Wingspan: 30.4″ to 32.6"
Food: Aquatic creatures and fish
Clutch size: 4 to 9 eggs
Egg color: Bluish green
Egg size: Length 2.3″ Width 1.7″
10. Ruddy Duck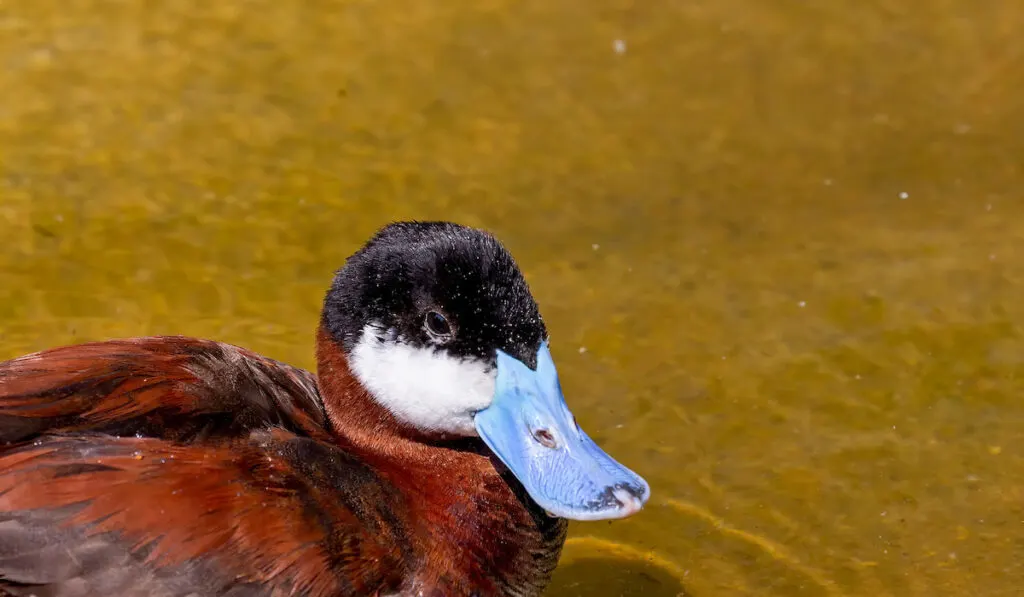 Description
Male Ruddy Ducks, while breeding, are happy-go-lucky looking birds.
Males put on a much less extravagant display outside of breeding season when they are a dull gray color in contrast.
Female Ruddy Ducks have similar makings and patterns to the males but in much less vibrant colors of grays and browns throughout their bodies.
Food
Ruddy Ducks are divers, but they don't dive for fish. Males and females prefer aquatic plants, insects, crustaceans, and other invertebrates. But mostly, you will find them in shallow waters where they dive to the bottom and use their bills to strain mud and swallow what's left behind.
Nesting
After finding a mate at the breeding ground, the female Ruddy Duck will eventually find a nesting spot to lay her eggs.
After finding an area she is comfortable with, usually somewhere with a lot of surrounding vegetation, she will build her nest a few inches above the water's surface in bulrushes, cattails, or grasses.
The female will use dead or dry plants to form a strong base and a bowl shape on top. With her nesting area complete, Ruddy Ducks will usually incorporate a woven canopy overhead.
Ruddy Duck Behavior
This grumpy duck is a fast flyer but tends to be a little awkward in the air. If there is a predator on their tail, Ruddy Ducks prefer to escape by diving or swimming rather than flying.
Key information:
Behavior: Surface diver
Habitat: Marshes
Nesting: Ground
Weight: 28.4 oz (805 grams)
Length: 14″ to 16″
Wingspan: 21″ to 24"
Food: Aquatic creatures and vegetation
Clutch size: 3 to 13 eggs
Egg color: Yellowish white
Egg size: Length 2.6″ Width 1.8″
11. Blue-winged Teal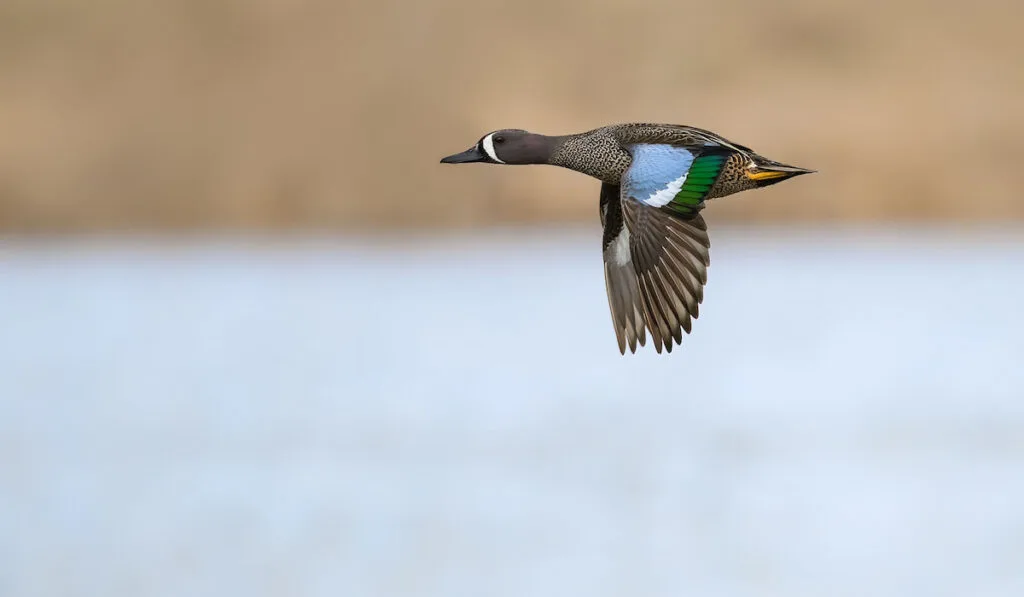 Description
While female Blue-winged Teals have a scaly pattern throughout their bodies in light and dark shades of brown, the males have similar shades and patterns but only on their front and sides.
When they unfurl their wings, a vivid patch of blue is displayed around the shoulder area, along with some green and white.
Food
These pretty looking ducks like to forage for food at the edges of calm lakes, ponds, marshes, or swamps with abundant vegetation. These dabbling ducks also like aquatic insects, crustaceans, clams, and snails.
When the winter season comes around, they settle for rice, millet, and water lilies.
Nesting
The female Blue-winged Teal has all the say regarding the chosen area for nesting. Close to water and covered by vegetation are her requirements, but she is very fussy and investigates many different locations before settling on the perfect spot.
Satisfied with her choice, she will scratch away at the ground, forming a circular depression. She adds dry grass and down feathers to finish her nest off.
Blue-winged Behavior
To do so, they leave their breeding grounds long before other duck species.
Key information:
Behavior: Dabbler
Habitat: Marshes
Nesting: Ground
Weight: 19.2 oz (544 grams)
Length: 15″ to 17″
Wingspan: 23″ to 31"
Food: Aquatic insects, vegetation, and seed
Clutch size: 6 to 14 eggs
Egg color: Creamy white
Egg size: Length 1.9," Width 1.4″
12. Wood Duck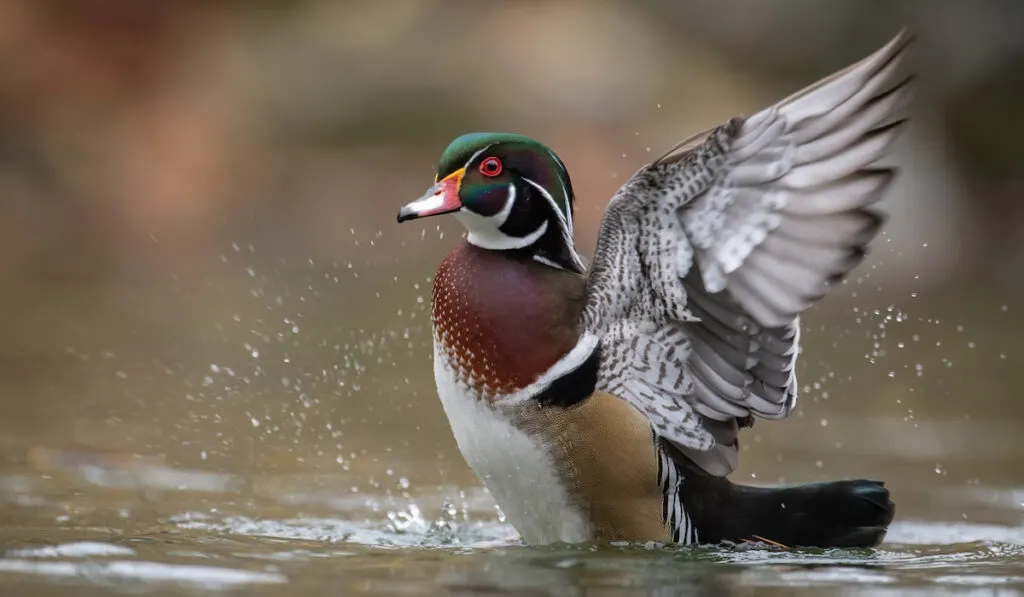 Description
Unlike other duck species, female Wood ducks are almost as glamorous as their male partners. Although they have mostly gray and brown shades, their delicate appearance is adorable.
A white ring enhances their dark eyes, and their brown chest, specked with white, leads down to their backs, where a breathtaking shade of blue is almost hidden by chestnut brown.
Food
Wood Ducks have a more sophisticated diet than the other ducks on my list. While they also enjoy insects and aquatic foods when available, and plant materials are a large part of their diet, these ducks also enjoy fruits, like wild cherries and blackberries.
Other foods not seen in my list that Wood Ducks eat include soybeans, acorns, caterpillars, and isopods.
Nesting
Wood Ducks search for a nesting site together. While the male stands guard on the lookout for potential predators, the female examines the site. Natural cavities in trees are the preferred place to form their nest and are usually situated over or near water.
Using rotting wood and maybe old squirrel nests that the tree naturally provides, the female Wood Duck only needs to add her plucked feathers for her nest to be complete.
Wood Duck Behavior
A Wood duck clutch usually has around ten eggs, but nests have been found with 29 eggs inside. That poor Wood Duck will be overwhelmed come feeding time!
Key information:
Behavior: Dabbler
Habitat: Lakes and ponds
Nesting: Cavity
Weight: 16 to 30 oz (453 to 850 grams)
Length: 18.5″ to 21.3″
Wingspan: 26″ to 28.7"
Food: Plants
Clutch size: 6 to 16 eggs
Egg color: Creamy white or tan
Egg size: Length 2.2″ Width 1.5″
Final Thoughts
Our planet is blessed with a plethora of birds, each special in its own way. Ducks, however, seem to hold a special place in our hearts, especially in Texas. This is due to the iridescent, colorful, and distinctive features of these unique birds.
This article, which gives detailed information about 12 types of ducks that can be found in Texas alone, is a testament to the plentitude, popularity, and love these semi-aquatic birds enjoy.
Resources