*This post may have affiliate links, which means I may receive commissions if you choose to purchase through links I provide (at no extra cost to you). As an Amazon Associate I earn from qualifying purchases. Please read my disclaimer for additional details.
Duck dishes are becoming more popular in the United States, but they've been a major food staple in other countries for a long time.
For example, families and restaurants in China eat BBQ duck and roast duck all the time. And Peking duck is one of the world's most famous and delicious dishes!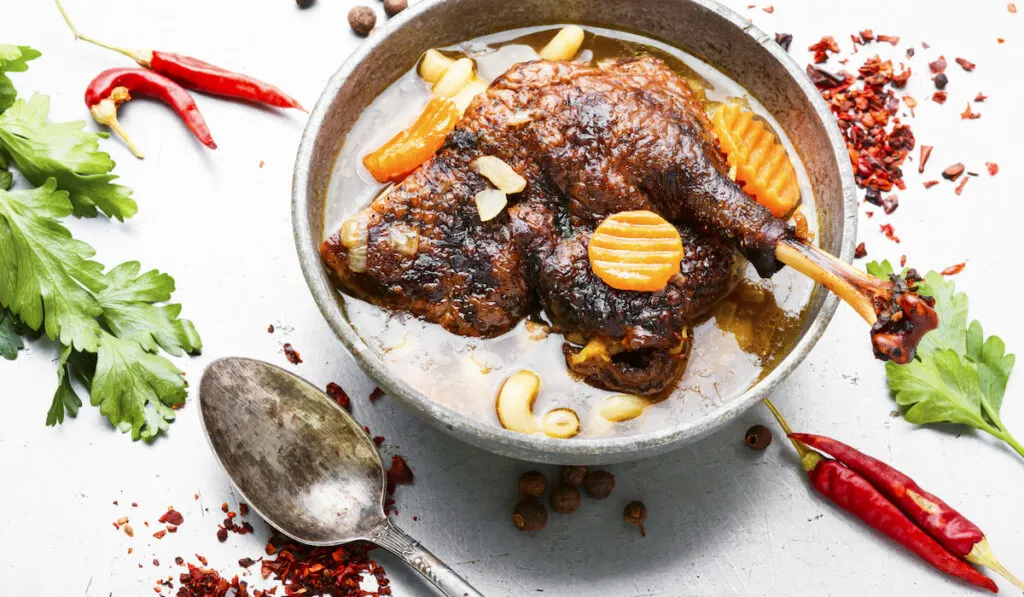 Americans are notoriously picky eaters. We love to stick to things we like and shy away from anything new that tries to get onto our plates.
However, higher-end U.S. restaurants now serve duck confit, glazed duck, and duck ragu with your favorite type of pasta.
As more people become accustomed to seeing and eating duck in restaurants, they're more open to trying duck dishes in their own kitchens. So now, rather than export ducks overseas, where they're sold as prized animals, more Americans are cooking up delicious ducks right here at home.
Whether you're buying duck at the grocery store or raising your own birds, here are some fantastic types of duck dishes to try for dinner!
Duck Gumbo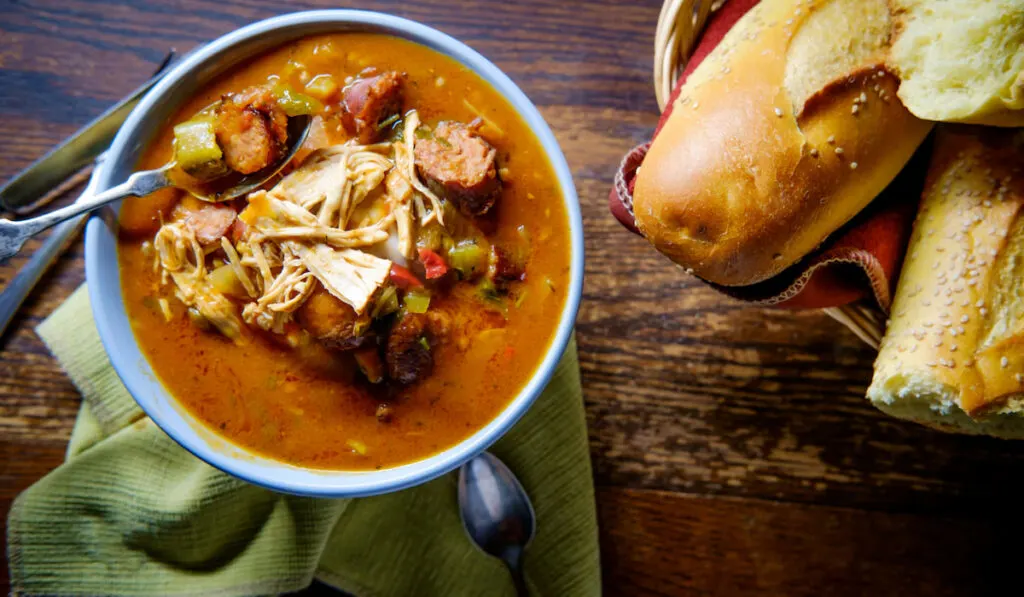 Usually, duck has a much stronger flavor than chicken, which can be challenging for people who are picky eaters or small children. There is a slightly gamey flavor to ducks that people love, but it's not for everyone at first.
Cooking duck in a southern dish like gumbo is a beautiful way to mask the gaminess of the bird with other intense flavors.
Gumbo has a ton of spices and other meats in the dish, like sausage, shrimp, and even chicken, so you can mix in the duck well.
Serve it over rice with some hot sauce, and duck gumbo will quickly become one of your favorite family meals.
Duck Tacos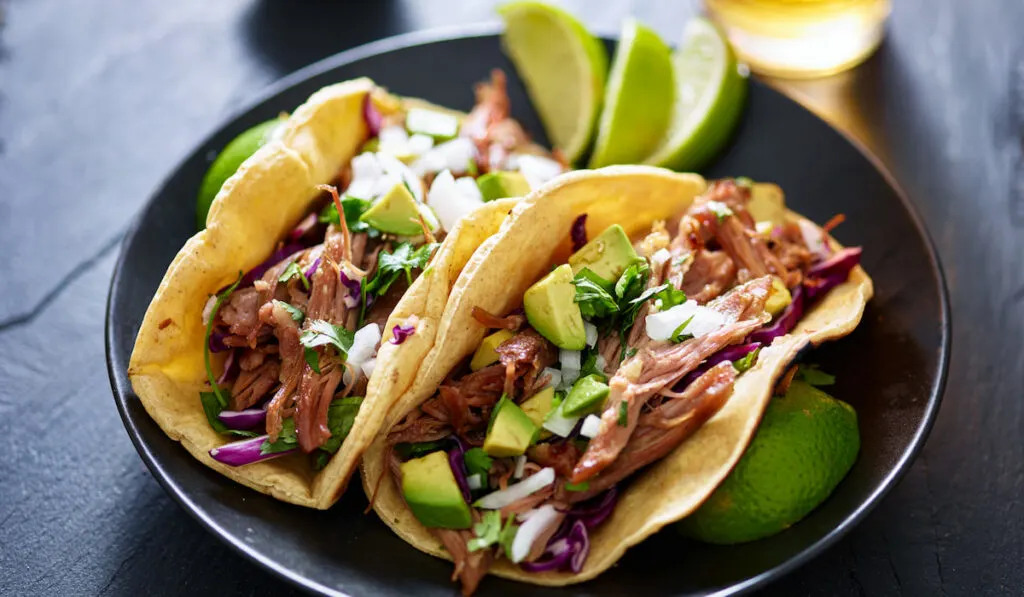 Did you know that you can make duck carnitas to go with your favorite tacos? By slowly braising the duck, it will imitate pork carnitas.
All you have to do is keep the same spices and flavorings you use to make your favorite pork carnitas, and you'll have a delicious duck dish to serve to friends and family at your next get-together.
Once the duck is braised for several hours and is soft, take the meat and sear it in a hot pan to give it a trademark crisp that provides a terrific crunch in your tortillas.
Soy Sauce-Glazed Duck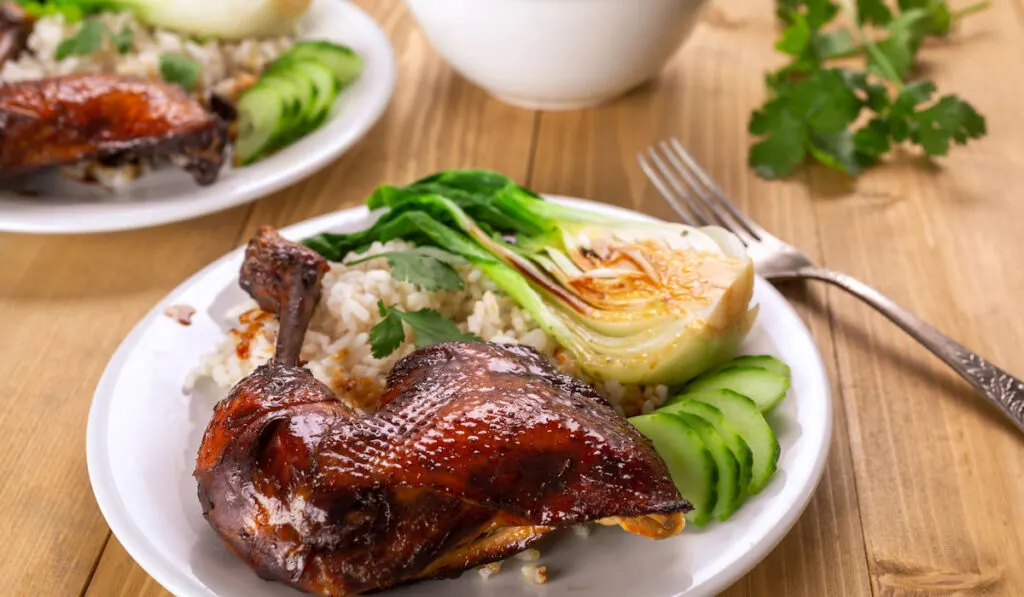 This dish is inspired by all of the ways duck is prepared in Asian cuisine. All you need are some basic Asian ingredients, and you can make a yummy weekday dinner in minutes.
Mix hoisin sauce, soy sauce, and rice vinegar together.
Then, heat a pan and sear the skin side of the duck until it's crispy. Flip the duck breasts over or whatever other part you're cooking, and let it cook in the skin's rendered fat.
Pour the mixed sauce over the duck and stick it in the oven to glaze for a few minutes. Once it's done, take it out and let it cool before slicing it and putting it on top of white or fried rice with some veggies.
Sous Vide Duck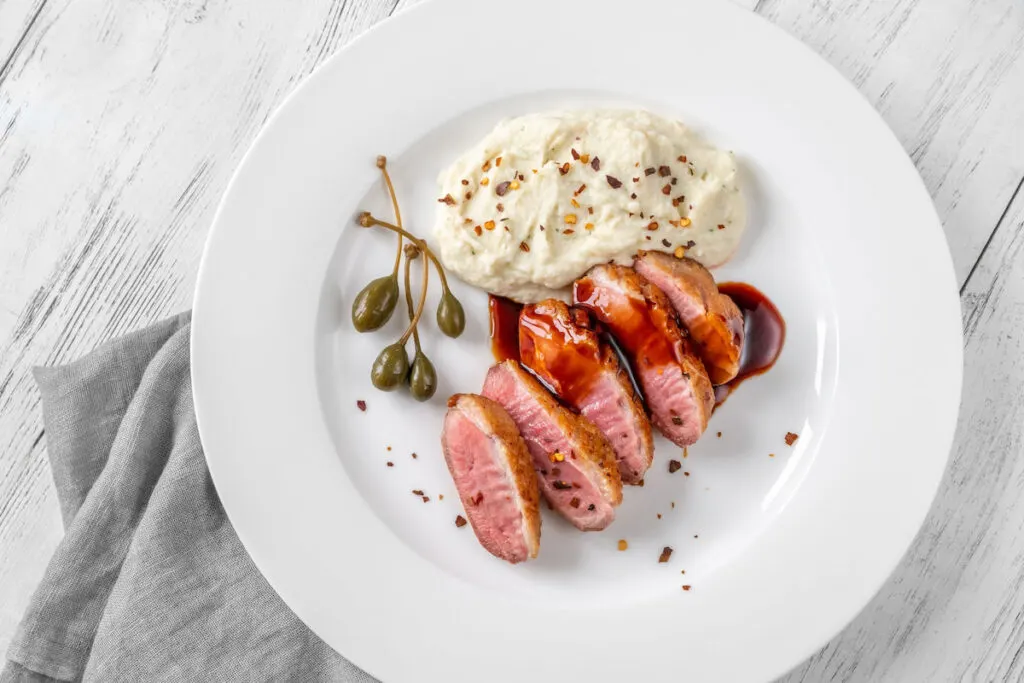 Sous vide is a method of cooking whereby you cook something in water at a low temperature for a very long time. It's meant to create soft textures and intense flavors because the protein is sealed in a bag, so there's nowhere for the juices to escape.
You can find sous vide machines online that are easy to use, and you'll probably love experimenting in the kitchen with steaks, chicken, fish, and duck!
For duck sous vide dishes, simply insert the duck into a sealed bag with butter, garlic, salt, pepper, and any other seasoning you want to try. Set the temperature based on how pink you want the meat to be, and let the appliance do the rest.
It will take hours before the duck is ready, so this meal is best tried when you have plenty of time to cook.
Roast Duck With Citrus Sauce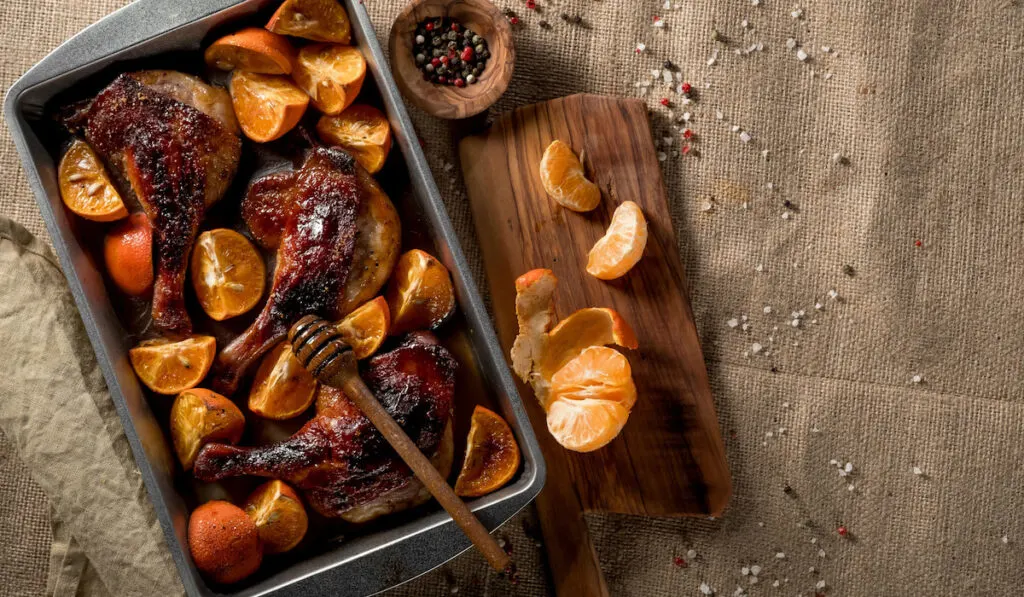 If you look online, you'll see several duck dishes with orange sauce served with blueberries, raspberries, and grapes. Roast duck with a citrus sauce is a classic combination.
To start, roast the duck with the skin side down again. Once the skin gets crispy, you can either flip the duck breast or stick the whole pan into the oven to cook.
While the duck is baking, start making your sauce. Mix fresh orange juice with herbs, salt, sugar, or soy sauce.
You can glaze the duck with honey when you take it out of the oven and then drizzle your homemade sauce over the duck.
Duck Rillettes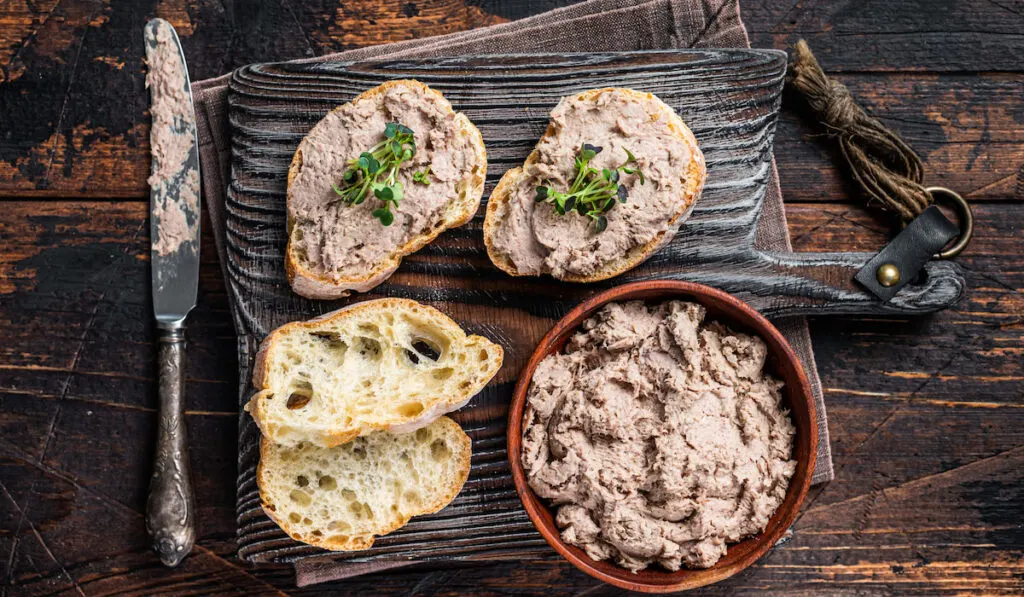 Duck rillettes is a perfect dish to try if you don't want to eat an entire duck breast.
This dish uses brined duck legs braised in stock for hours. Once the meat is soft enough to fall off the bone, mash it with a fork and mix it with spices like salt, garlic, onion powder, etc.
Then place it in a serving dish along with rendered duck fat.
This dish is a staple in fancy restaurants worldwide and is best served on warm toast along with pickles, onions, and other sour foods.
Duck Curry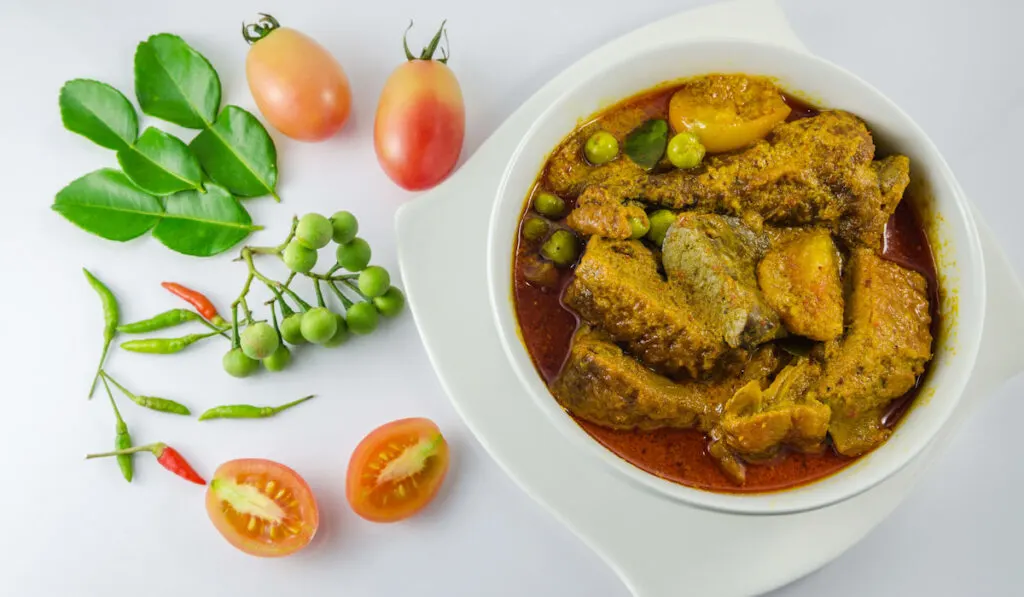 If you travel to Asia, you'll see plenty of chicken and beef curries, but there are also many amazing duck curries you should try!
Duck typically goes best with red curries with good spice levels and mixed vegetables. If you're trying this duck dish at home, it's a good idea to let the duck braise for hours to make it tender and absorb all those delicious curry flavors.
Roast Duck in Port Sauce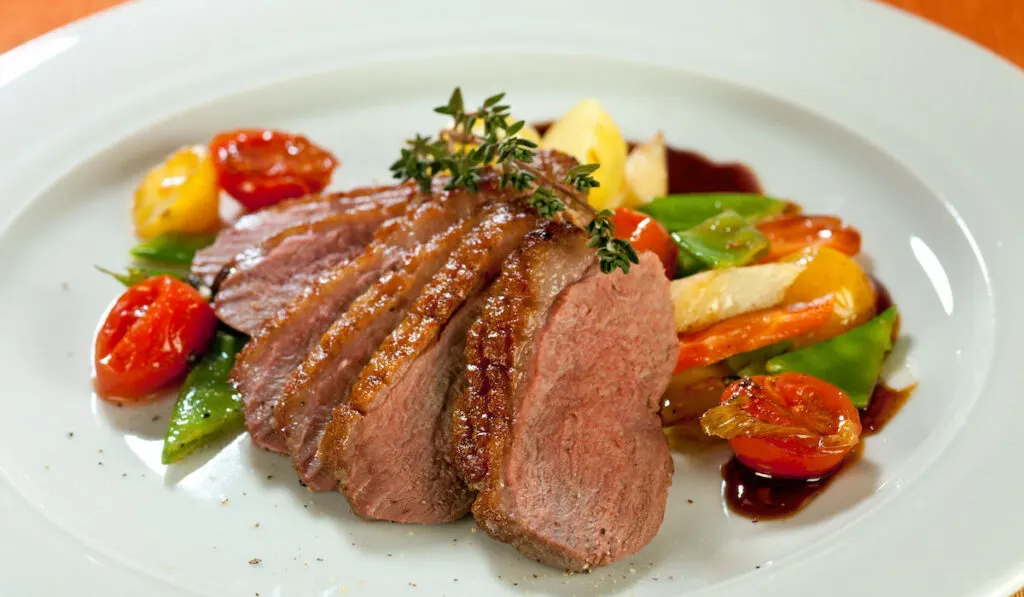 Try serving duck at your nice family meal next time.
Roast duck in a port sauce is a fantastic formal duck dish to try.
Once you sear and bake your duck breasts in a pan, pour port wine into the pan and scrape off all those seared pieces of leftover duck skin from the bottom of the pan to add a rich flavor to the sauce.
Serve your duck over mashed or roasted potatoes so you have something to soak up all the remaining sauce.
Duck Ragu with Pasta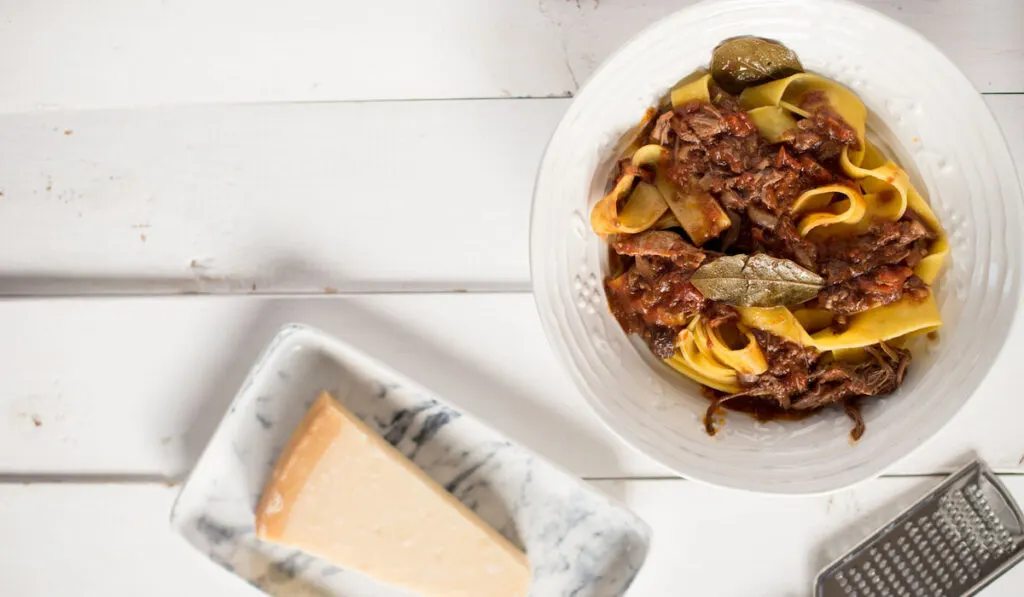 Duck ragu has been a famous Italian dish for centuries. Now you can give it a shot in your home kitchen for dinner!
Duck ragu involves braising your duck with wine, garlic, rosemary, water, and berries for hours. Then roast and mix in vegetables that you cook with the duck even longer until it creates a creamy ragu that you pour over your favorite kind of pasta.
It's a rich dish that you and your kids will love.
Stuffed Duck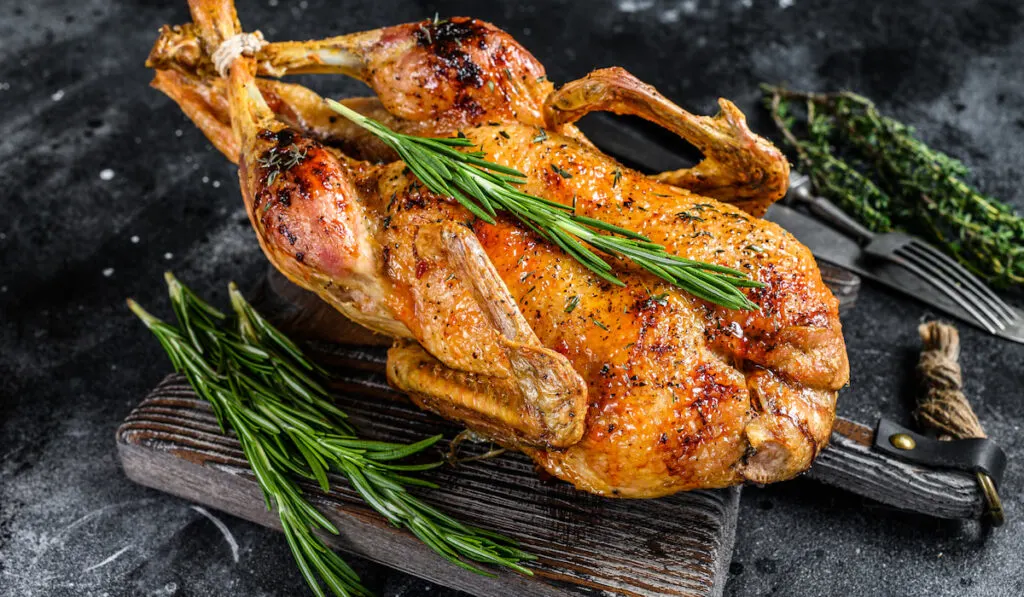 You can also cook some amazing duck dishes the same way you would prepare a Thanksgiving turkey. Take a whole duck and stuff it with traditional stuffing or a mixture of apples, chestnuts, and herbs.
Tie the legs together and put the entire stuffed duck into the oven. You'll need to baste the duck regularly to get a good char on the skin.
Then, take it out and serve it with broccoli, potatoes, and anything else you love to eat on the holidays.
Peking Duck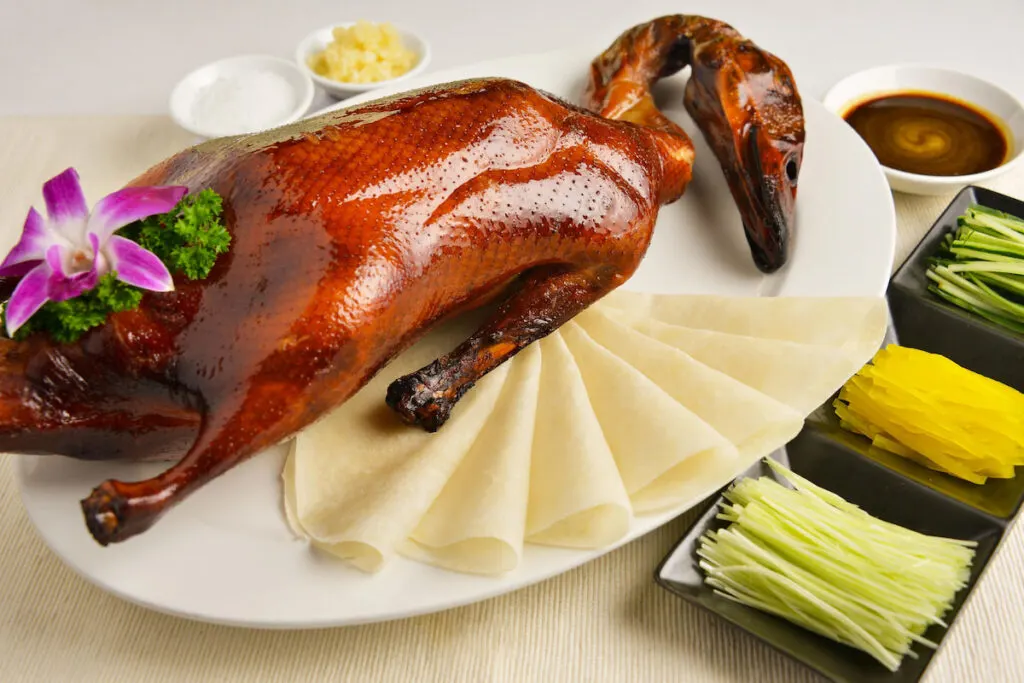 Peking duck is a challenging dish, so be ready for possible failure if it's your first time with this famous Chinese cuisine.
Peking duck is a whole glazed duck served with small tortilla-like wraps, plum sauce, sugar, sliced cucumbers, and scallions.
You can make Peking duck at home without the open flame grills you'll see in Beijing restaurants. Of course, the results won't be the same, but you can get pretty close with some practice.
The duck should roast until the outer skin is very crispy so the dish has a good texture. Combine all the ingredients into a wrap and discover why billions of Chinese people love this duck dish!
Duck Fried Rice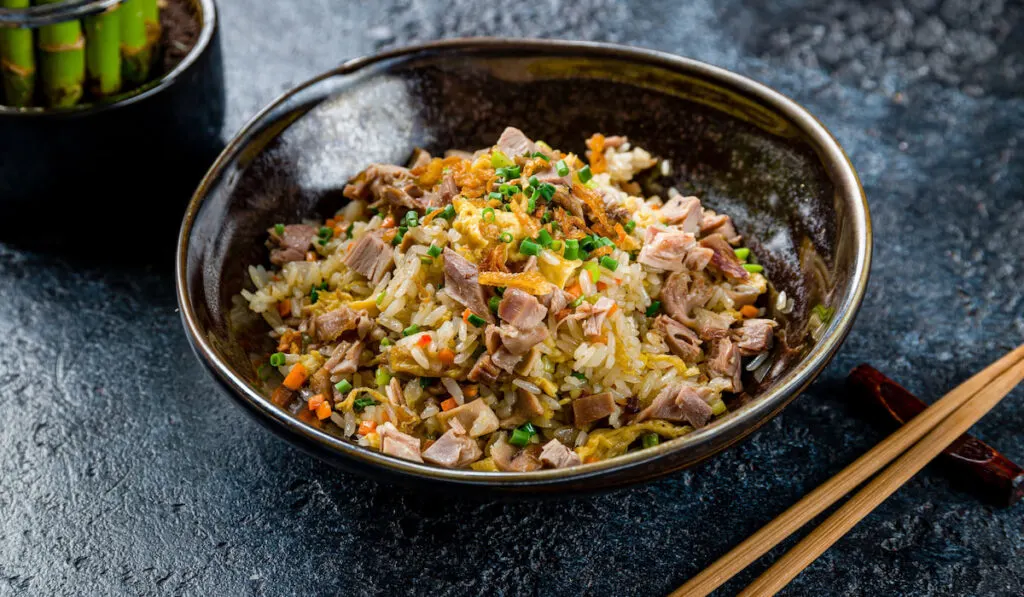 Duck fried rice is another excellent example of a tasty duck dish. Again, you'll cook it the same way you would any other fried rice; only this one has juicy chunks of duck tossed inside.
If you want to take the flavor up a notch, sear the skin on the pan before adding the rice. Every bite with a piece of crispy duck skin will be delicious, and the rendered fat will add flavor to the entire dish.
Final Thoughts
These are just several of the countless dishes you can make with duck. As more Americans eat duck, they discover different ways to prepare and cook the bird. It's a healthy, lean protein that tastes great on pasta, with rice, or as the main holiday dish.
Give some of these dishes a try, and your family will fall in love with duck dishes!
Resources