*This post may have affiliate links, which means I may receive commissions if you choose to purchase through links I provide (at no extra cost to you). As an Amazon Associate I earn from qualifying purchases. Please read my disclaimer for additional details.
It is a very cool thing to own a peacock. Want to know something more extraordinary than owning a peacock? Getting the chance to name one! You want to call your peacock something remarkable. You'll find more than 350 name ideas for your peacock in this article.
Minor Challenge in Naming Peacocks
Before you see the name ideas, you should first note that most name ideas for peacocks are gender-neutral. You might end up naming your male peacock with a female name.
Well, there are gender-specific names for peacocks. But most of the time, you will be inspired by your peacock's color and beautiful feathers and not by gender when choosing a name.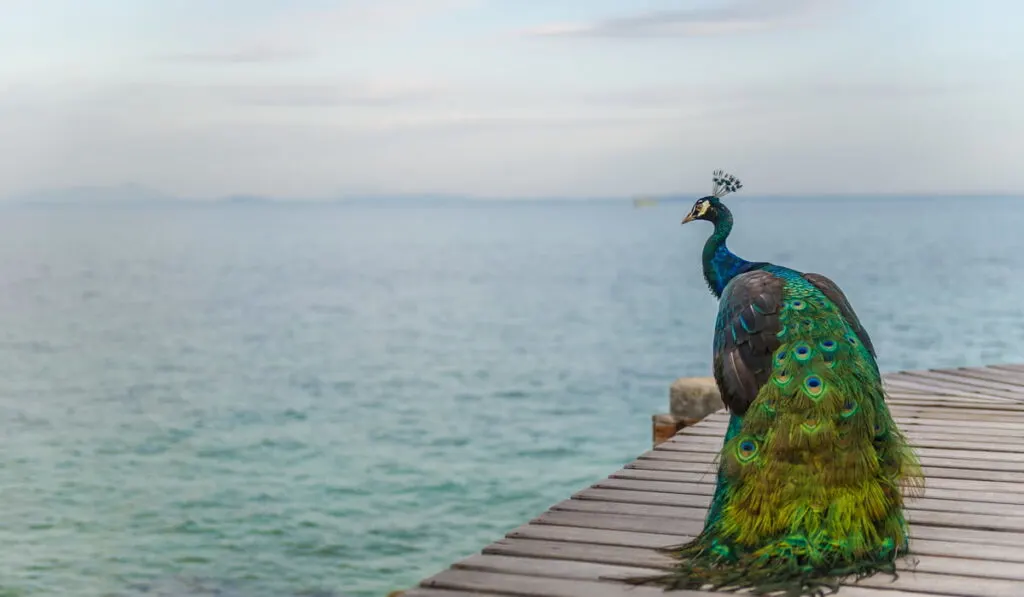 Classic Names for Your Peacock
Here are some recommended names for your peacock:
Venus: Venus is the Roman goddess of beauty. This name is suitable for your peacock, considering how beautiful it is.
Aphrodite: Like Venus, Aphrodite is the goddess of beauty in Greek mythology.
Goddess: This is a pretty name for female peacocks.
Beauty: Aren't you stunned by the beauty of your peacocks? Why not call your bird Beauty?
Loki: Loki is a popular Marvel character with a green suit. This name is suitable for green peacocks.
Thor: Thor is the god of thunder in Marvel comics, movies, and mythology. This name is suitable for blue or white peacocks.
Pea: You can shorten the bird's name to "Pea," and it would be a lovely name for female peacocks.
Mystique: Mystique is a blue character in the movie X-Men. This is a great name for female peacocks.
Rainbow: Peacocks are known for their multiple colors. This gender-neutral name is superb for peacocks.
Azul: This is a Spanish word that means "blue." This name is excellent for blue peacocks.
Peanut: Why not name your peacock after its favorite treat, which also shares the same initial (a "P")?
Many of these names are majestic, but there are so many more that you can choose! Continue reading for more types of peacock names.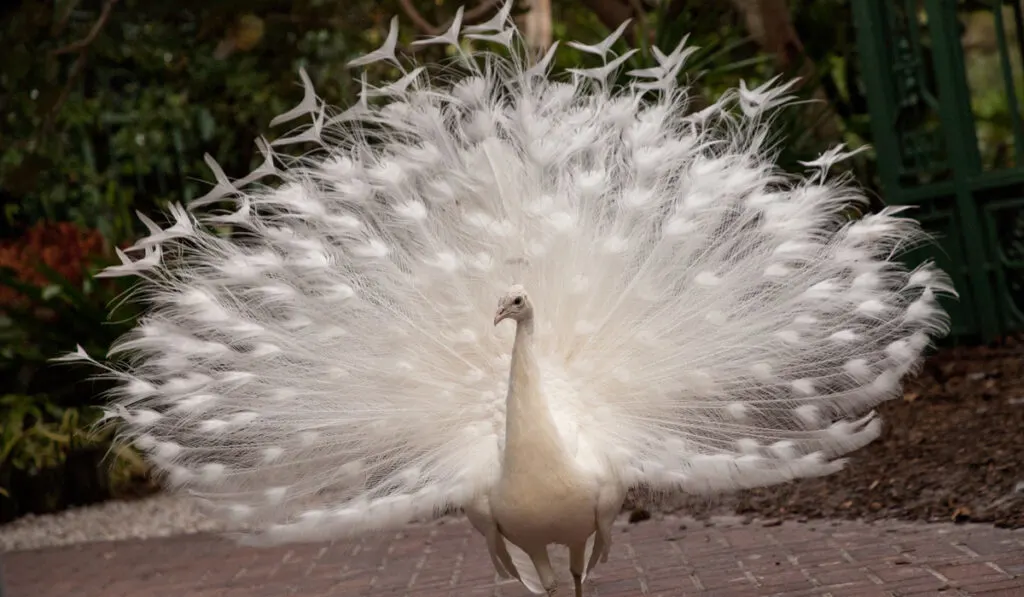 White Peacock Names
Do you have a white peacock? Your beautiful angel will surely suit one of these names:
Luna
Angel
Blizzard
Coconut
Dandelion
Arctic
Diamond
Ermine
Jasmine
Moonlight
Nimbus
Gandalf
Ghost
Snowball
White Lightning
Frosty
Iceman
Wizard
Yeti
Ghost
Vanilla
Mr. Frost
Sugar
Vern
Aurora
Mr. White
Dawn
Dimond
Zeru
Morning Glory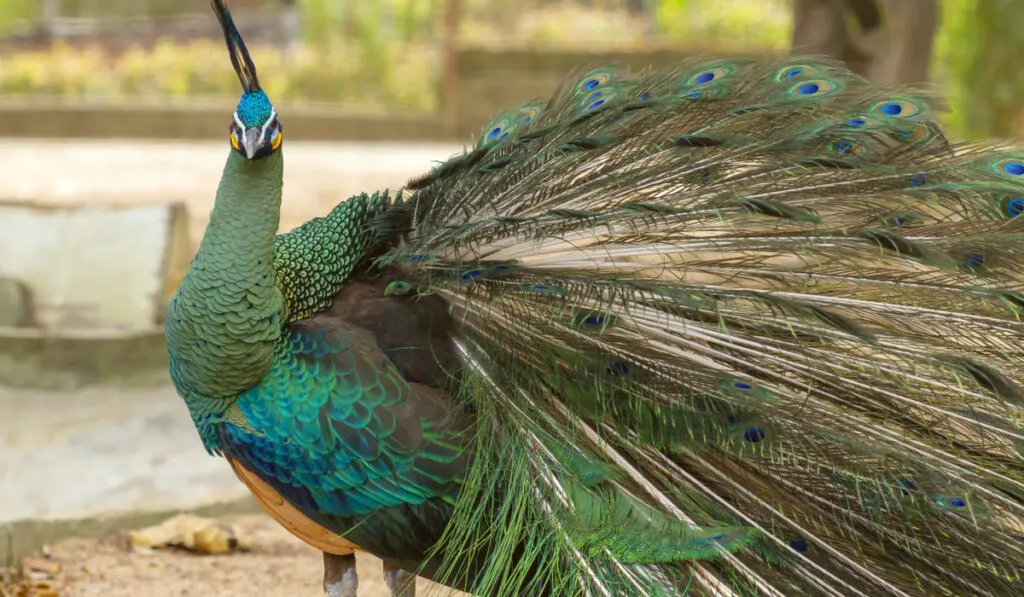 Green Peacock Names
Green peacocks are common and very beautiful. Why not name yours with one of the following names?
Yoda
Greeny
Forrest
Veggie
Camo
Sage
Flora
Grinch
Pea
Honeydew
Basil
Pistachio
Peridot
Herbie
Evergreen
Jade
Kale
Jungle
Maizey
Green Bean
Forest
Lime
Petie
Beryl
Spearmint
Ivy
Kiwi
Sweetpea
Clover
Leaf
Hulk
Aloe
Oakley
Meadow
Envy
Cactus
Emerald
Olive
Peabody
Gumby
Pickles
Barney
Oscar
Lucky
Amazon
Avocado
Minty
Chive
Patrick
Eve
Mossy
Moss
Kelly
Holly
Maize
Marvin
Jasper
Mint
Rosemary
Shamrock
Fern
Celly
Brazil
Kermit
Yoshi
Sprout
Tinkerbell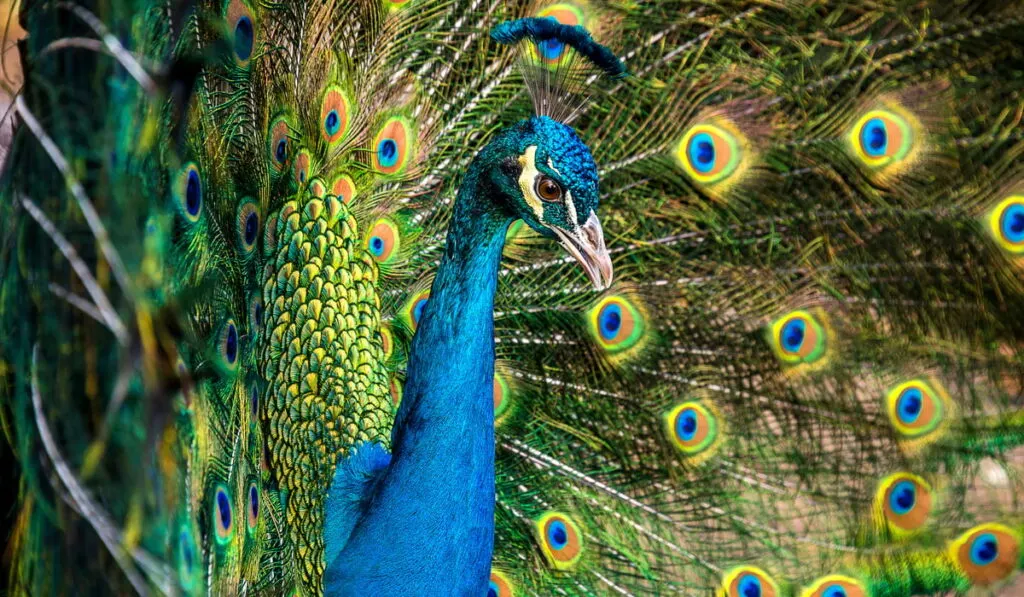 Blue Peacock Names
If you happen to have a blue peacock, you will surely like one of the names below for your bird:
Blue
Beryl
Iolite
Aquamarine
Azurite
Larimar
Paraiba Tourmaline
Labradorite
Lapis Lazuli
Anemone
Aster
Sapphire
Turquoise
Bluebell
Forget-Me-Not
Hyacinth
Hydrangea
Cornflower
Delphinium
Pansy
Periwinkle
Iris
Lupine
Morning Glory
Amazon
Lagoon
Lake
Maldives
Baltic
Caribbean
Niagra
Ocean
River
Michigan
Mississippi
Blueberry
Blue Velvet
Chambray
Jean Jacket
Blue Moon
Sky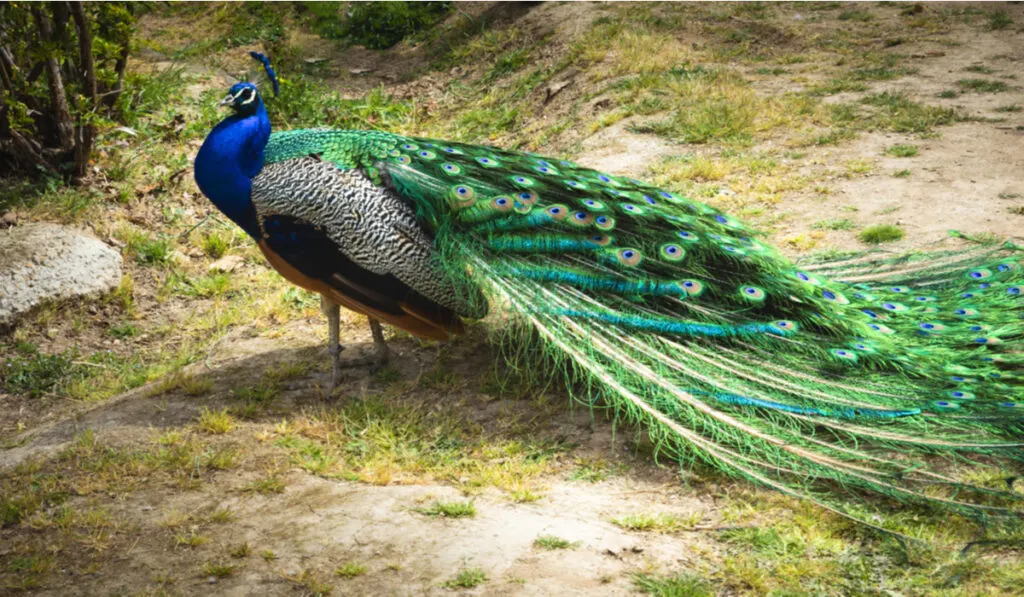 Black Peacock Names
Black peacocks are rare but incredibly beautiful. If you get the chance to name one, here are some great names that you can use:
Smokey
Niger
Shade
Dark
Ninja
Blackberry
Astronaut
Vampy
Darkie
Space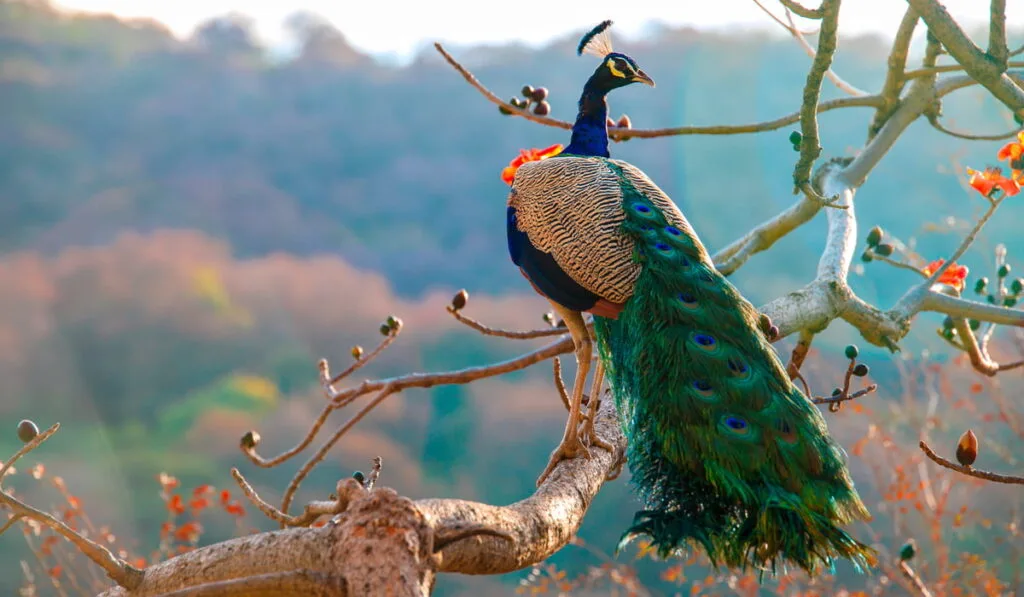 Female Peacock Names
What if you want a feminine name for your female peacock? Here are some ideas:
Susie
Kimberly
Paonne
Jean
Eartha
Layla
Sweetpea
Eve
Cornelia
Nancy
Precious
Daisy
Betty
Audrey
Natalia
Lucy
Angelica
Yolanda
Bridget
Katherine
Daniella
Rita
Esmeralda
Lydia
Anikka
Lindsay
Lexi
Dimples
Rosalie
Maya
Margie
Penny
Kelly
Lily
Yasmine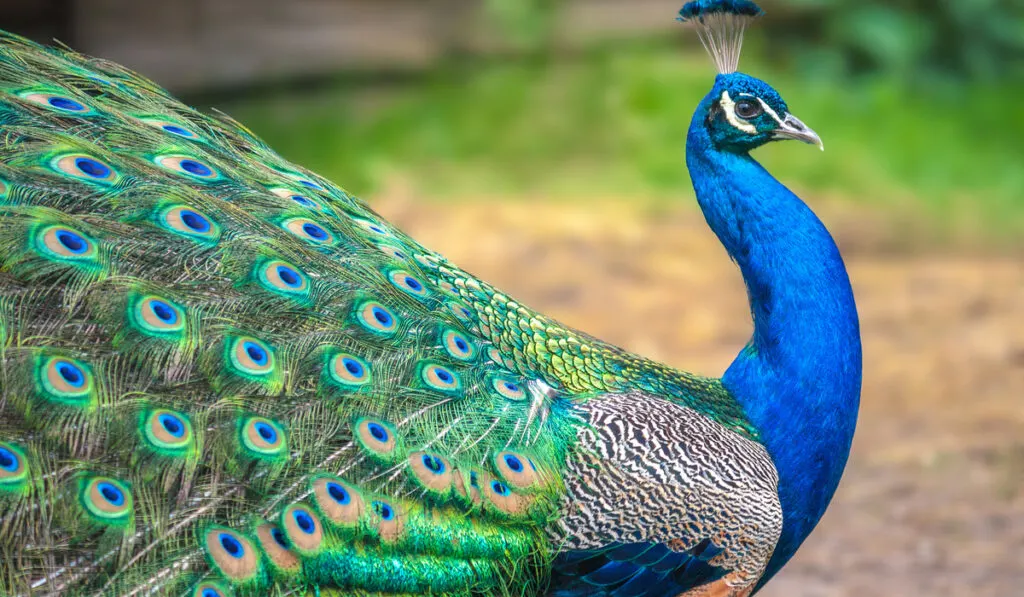 Male Peacock Names
Your male peacock could be called any of these names:
Cornelius
Daniels
Daniel
Cyril
Show-off
Big Bird
Fan Boy
Dave
Edward
Asher
Ostentation
Ebenezer
Edmund
Bret
Gizmo
Blanc
Dewy
Azurite
Albus
Winstone
Tavas
Jax
Thormund
Artemis
Timothy
Prance
Hobbes
Bird-of-Juno
Augustine
Patrick
Peawang
Zachariah
Aqua
Finch
Auric
Lolite
Percy
Jefferson
Shen
Nutmeg
Freedo
Nova
Mayur
Pavel
Arnie
Blue
Pavonian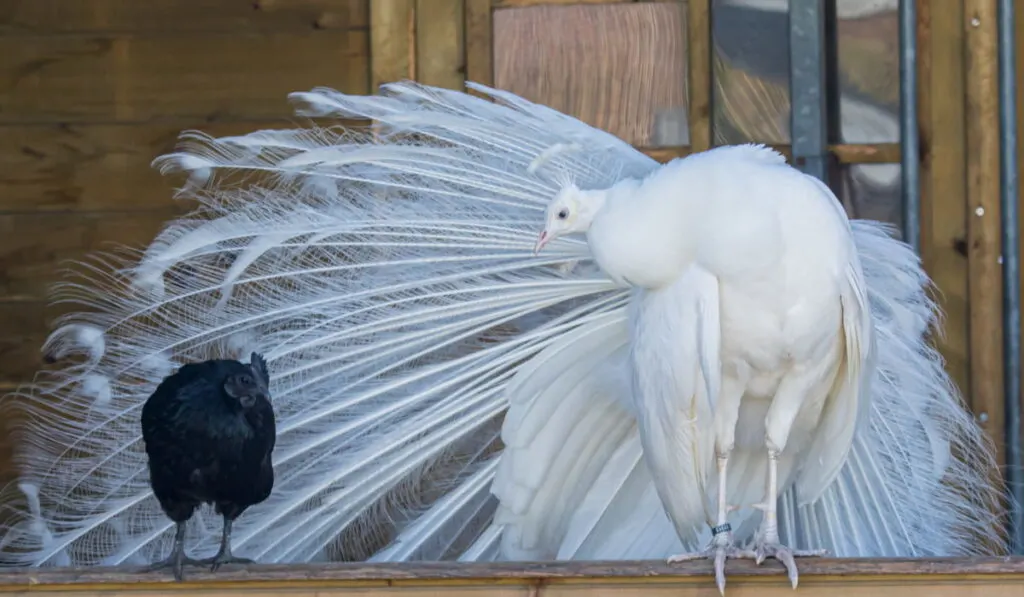 Funny Peacock Names
Here are some funny names that you can call your peacock:
Yakky
Abominable Snowbird
Dr. Shelly
Foghorn Leghorn
Randy Guy
Pose Expert
Will Power
Chablis
Roo Paul
Flint Sparks
White Fan
Moe Lester
Pretty Bird
Disco Turkey
Strutter
Willie Layer
Mike Hunt
Cluck Norris
Hazle Nutt
Miss Posture
Jack Haas
Calypso
Sparky
Chipper
Ben O. Verbich
Big Bird
Snow Orchid
Gregory Peck
Ms. Bossy
Blanche
Mona Lott
Tail Bird
Kelly Green
Champagne
Lemon
Uncle Beak
Blue Tona
Gossiper
Dunkin Butter Beans
Winston Churchill
Copycat
Pollock
Pelican
Loud Mouth
Roommate
Sleeping beauty
Wingman
Big Red
Angry Bird
Feather Bluster
Whistler
Little Packer
Saltine
Peacock Hook
Banty Raids
Kissing George
Free Bird
Doodle Doo
Larry Bird
Toucan Sam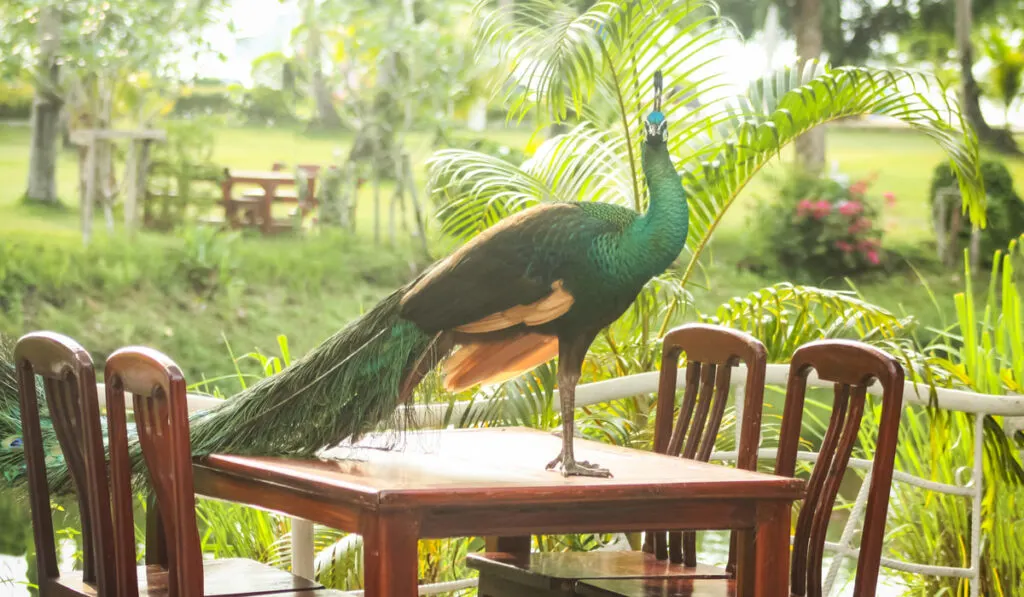 Even More Names for Your Peacocks
Want even more name ideas for your peacocks? Here you go:
Cyane
Delphinium
Livia
Rico
Nimbus
Lochan
Chambray
Taves
Amos
Billy
Zany
Bingo
Bruce
Colonel Sanders
Drumstick
Fluffy
Clyde
Hank
Muncher
Long-neck
General Tso
Gregory Peck
Rooster Cogburn
Swagger
Tex
Screamer
Squark
Waylon
Willie
Abraham
Artemis
Albus
Andy
Archibald
Frank
Kay
Marcus
Harvey
Hobbes
Neil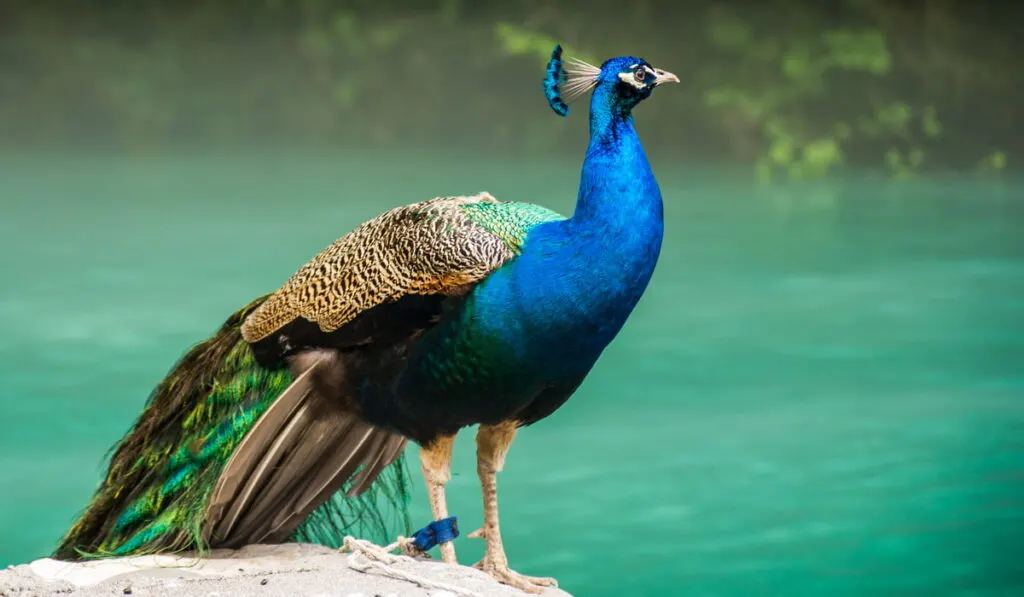 Obediah
Phantom
Phil
Tormund
Ormund
Wiggles
Letwin
Michael
Sophia
Amelia
Linnet
Zippy
Stacey
Paloma
Valery
Zippora
Gretta
Birdie
Avalyn
Almond
Susan
London
Celandine
Evelyn
Rawhide
Bailey
Charlotte
Justice
Dumplin
Carson
Jubal pomp
Boots
Ingrid
Gunnar
Dakota
What name will you use for your peacock?